Tropical cyclone Zoraida has made landfall in the Philippines, which is still reeling under the devastation caused by Typhoon Haiyan.
The eye of the new storm reached land over Caraga town in Davao Oriental, packing maximum sustained winds of 55kmph, the Philippine Atmospheric, Geophysical and Astronomical Services Association (Pagasa) said.
The tropical depression is expected to move past the Philippines on Thursday (13 November).
"The regions of Davao, Caraga, Northern Mindanao, Zamboanga Peninsula, Armm, Province of North Cotabato, Central and Western Visayas, Northern Palawan and the Islands of Camiguin, Calamian, Cuyo and Samal will have rains with gusty winds with moderate to rough seas," said Pagasa.
The weather bureau has also warned residents in low-lying regions against flashfloods and landslides.
Zoraida is likely to hinder the ongoing rescue measures by the Philippine authorities, who are struggling to access the storm-ravaged areas and supply aid to survivors.
A national state of calamity has already been declared by the Philippine President Benigno Aquino amid fears that the death toll could sharply increase from 10,000.
"My appeal to you all is: remaining calm, praying, co-operating with, and assisting one another are the things that will help us to rise from this calamity," Aquino said in a televised address.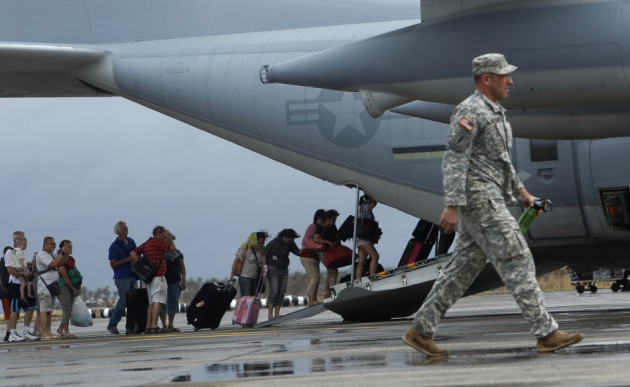 Meanwhile, international relief efforts have begun four days after the super-typhoon, known locally as Yolanda, devastated the country.
Apart from $20m in humanitarian aid, the US is sending its aircraft carrier USS George Washington, the Pentagon said.
The carrier, with 5,000 sailors and more than 80 aircraft onboard, is expected to arrive in the Philippines within 48 to 72 hours. The vessel is currently in Hong Kong for a port visit.
Other US navy ships will also be heading to the Philippines to accelerate aid supplies and to help the survivors.
British Prime Minister David Cameron has said the UK is sending a Royal Navy warship carrying equipment to make drinking water from seawater.
"Britain is contributing £10m and HMS Daring, currently deployed near Singapore, will shortly be heading at full speed towards the disaster zone with further support from an RAF C-17 which will be a powerful help to the relief operation," Cameron said during his address at the Lord Mayor's Banquet.