Tyson Fury is in discussions regarding an end-of-year showdown with former heavyweight champion David Haye, according to the Brit's trainer and father Peter Fury.
Haye, who confirmed the postponement of his fight with Manuel Charr on Tuesday citing a wrist injury, remains open to stepping into the ring with the unbeaten Fury, who defeated Steve Cunningham in April, despite his ambitions of booking a mandatory title defence against Vitali Klitschko.
And Fury's father, Peter, claims the two parties remain locked in discussions regarding a bout before the end of 2013, with the chances of the fight taking place looking "positive".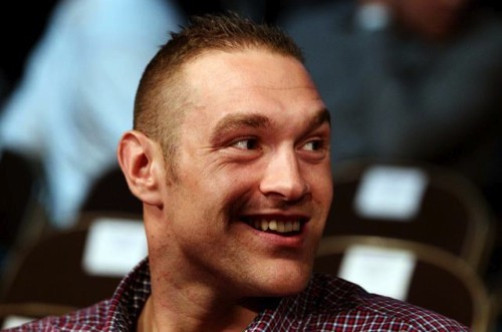 "We are in talks with them over a possible fight later on in the year," Fury Snr told the Manchester Evening News. "We are up to fight David Haye and he's up to fight us. It looks positive.
"We are definitely looking for big fights for Tyson now. I think David Haye and Tyson Fury is the biggest none world title fight out there in the heavyweights.
"If it can be made then we are all for it, but it is a long, long way from being there. No figures are being discussed yet.
"Tyson is ready for anyone. People have not seen the best of him," he added. "He's improved a lot and he is ready to step up. He's 25 this year, he's maturing all the time and he's still got time on his side.
"He is the man to fight and the man to beat. I see a fight with Haye as a big fight. Haye is very popular, it's definitely a good clash. It's a major none world title showdown for somewhere like Manchester or London."
The 24 year old's trainer had criticised his son for a lacklustre display against Cunningham in New York, after a second round knock-down, but is now talking up a fight with Haye, the ex WBA heavyweight champion.
Haye's return to the ring has been put back after a wrist injury suffered in training ended his hopes of facing Charr in June, but the 32 year old is keen to rearrange the fight.
"Medics told me I needed a minimum of four weeks rest," Haye said.
"I am absolutely gutted but there is little I can do as the problem is a ligament in my left hand which I damaged while training in Sunday.
"It was a pretty ferocious session. I felt a niggle but no real pain because the adrenalin had kicked in. But when I woke on Monday morning it was a different story.
"I've suffered injuries in training before and have managed to box on but this time there was no chance. I wouldn't have done myself justice or my fans justice.
"My deep and sincere apologies to everyone out there - those involved in the promotion and the thousands of fans who had already bought tickets.
"I am hoping that once my hand has healed sufficiently I can name a new date for my comeback against Manuel."