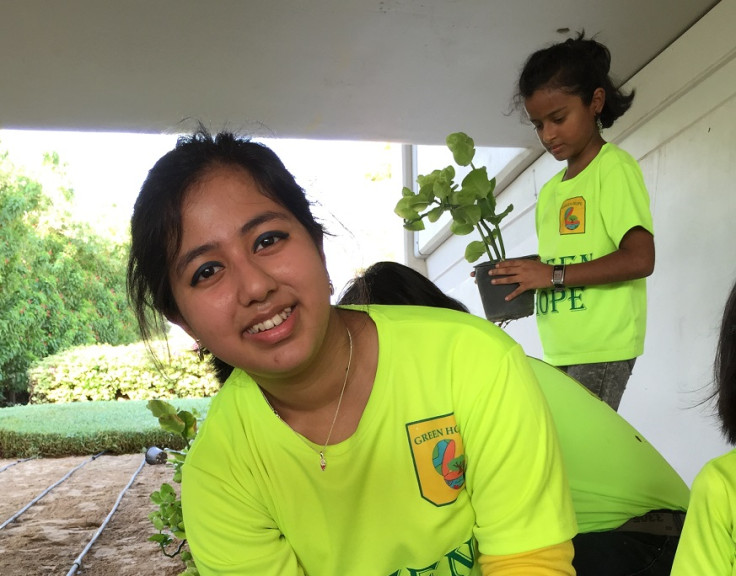 A teenage activist from the United Arab Emirates has been awarded the International Children's Peace Prize for campaigning to protect the environment. In 2013 at the age of 12, Kehkashan Basu (who is now 16) founded her own organisation, Green Hope, which is now active in 10 countries.
The International Children's Peace Prize, now in its 12th year, is awarded annually to a young person for their work in promoting children's rights.
Basu's runs waste-collection, beach-cleaning and awareness campaigns through her international organisation Green Hope, which has more than 1,000 volunteers.
After founding the organisation, she went on to become the youngest ever Global Coordinator for the Major Group for Children and Youth of the United Nations Environmental Programme.
More than three million under-fives die every year from environment-related diseases, with many more affected by environmental issues such as water and air pollution.
"I will keep campaigning to encourage children and adults to create a more sustainable future," Basu said.
"I call upon everyone to think of how they can contribute to the preservation of the environment. Take that extra step, walk that extra mile to get the future we want. Time is not on our side – we have to act now, or we will have polar bears under palm trees."
The teenager was awarded the prize by Nobel Laureate Muhammad Yunus, who won the Nobel Peace Prize in 2006. "It is a great achievement for such a young person to already have such reach and impact with her important message," Yunus said.
"A healthy environment is essential for the survival, well-being and development of children, and therefore it is a precondition for the realisation of the rights of the child. Kehkashan teaches us that we all have a responsibility to work towards a sustainable future."
The International Children's Peace Prize is an initiative of the children's rights foundation KidsRights. The prize was launched during the 2005 Nobel Peace Laureates' Summit chaired by Mikhail Gorbachev.
Syrian refugee Muzoon Almellehan, 18, was nominated for her work promoting girls' education in displacement camps. Twelve-year-old Divina Maloum, from Cameroon, was nominated for the prize for her fight against extremist violence in her country.