On 23 November, Ahmad Belhoul, the CEO of the Abu Dhabi government's clean-energy company Masdar, accompanied visiting dignitaries to a desalination plant to showcase the work being done. Sipping water from a crystal glass, Sultan Ahmed al-Jaber, the UAE's minister of state commented, "It tastes just like Evian."
A growing population, expansion of cities and desire for lush landscaping have resulted in the Emirates suffering from a fast declining level of ground water. An academic paper published earlier in the year by scientists at the United Arab Emirates University in Al Ain has predicted that at the current rate of water usage, the country's ground water supply will be depleted by 2030.
"Water remains a precious UAE resource, as nowadays the country's groundwater supplies are being unsustainably depleted and we need to save water for our future generations," Eng Mariam Mohammad Saeed Hareb, director, Education and Awareness and project management office at the Ministry of Environment and Water, told Gulf News.
The solution is being found along the UAE's 1,318km coastline. Currently, 33 of the country's desalination plants are responsible for supplying 56% of the water being used in cities. The other 44% is still pumped out of the ground.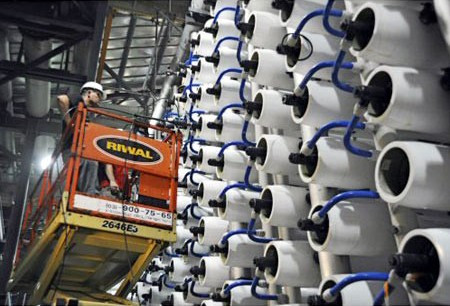 But desalination comes at a cost. Setting up one of these plants costs billions of dollars and the process itself consumes a large amount of energy. Besides, the heavily saline water that is an unwanted by-product of the process is then emptied back into the sea and can end up being harmful to the surrounding marine life.
"In our region, water is more important than oil," Ahmad Belhoul, the CEO of Masdar, the Abu Dhabi government's clean-energy company told the Associated Press. "We're trying to find solutions to address that."
On the border of Abu Dhabi, Masdar has been working on four small-scale desalination plants in partnership with four water technology companies – Spain's Abengoa and Degremont, France's Veolia, and Trevi Systems of the US, which will work to reduce the amount of energy currently being used in the process.
Even as scarce reserves of ground water continue to dry up, people in the UAE use water wastefully. This is especially so because the price of water is low.
"There has been some overuse of water driven by the lower tariffs," Belhoul mentioned. "If you don't pass on the price to the end user, the natural behavior is to consume more water."