Uber employees mocked for spray-painting an #Undelete mural
The ride-hailing firm was hit with a damaging #DeleteUber campaign earlier this year.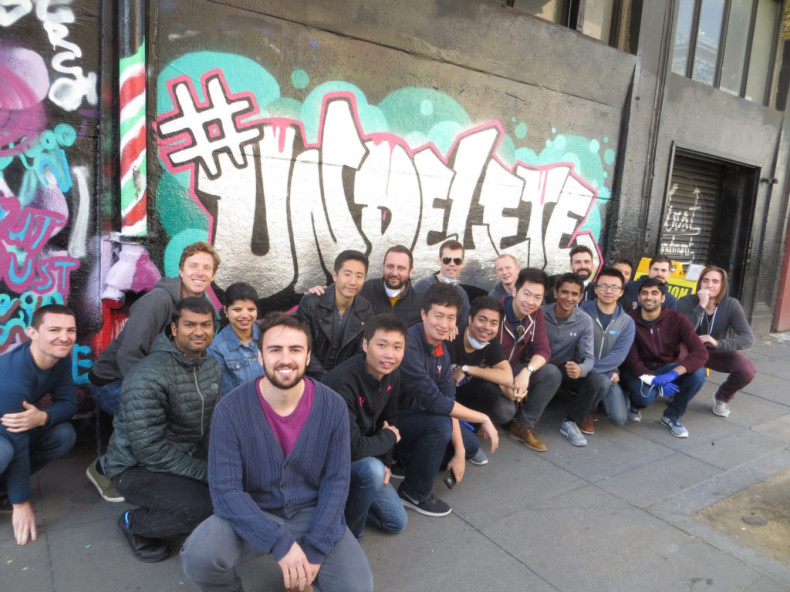 Since the beginning of 2017, Uber has faced a whirlwind of criticism over multiple controversies ranging from sexual harassment allegations and a toxic work culture to a lawsuit from Alphabet's Waymo. In January, the ride-hailing firm was hit with a damaging #DeleteUber campaign after it was accused of strike-breaking a protest by New York City taxi drivers over President Trump's controversial immigration ban.
The viral hashtag resurfaced following former engineer Susan Fowler Rigetti's chilling account of systemic sexism and harassment at Uber with hundreds of thousands of people deleting the app from their phones.
While Uber's top executives have vowed to clean up the embattled company's image and fix its "toxic" culture, a recent art project outing by some of its employees seemed to fall flat.
Graffiti and street art group 1AM, short for First Amendment, posted a series of photos earlier this month of a group of mostly male Uber employees spray painting "#Undelete" on a wall in San Francisco.
"Uber came by our San Francisco gallery to create a custom mural on our wall!" 1AM wrote in a blog post. "This team building activity is great for large groups that want to experience the process of creating a giant mural together along with learning the history of graffiti and street art."
The San Francisco-based art group "represents the freedom of speech through our urban art exhibitions, public murals and experiences."
Uber's team-building event, however, has been mocked on social media as a poor, lackluster marketing response to a larger, serious issue.
"If 2016 was the year of celebrity deaths, 2017 is the year PR depts outfail each other," one Twitter user wrote. "#Undelete your account so you can delete it again."
"Blair Witch" producer Keith Calder tweeted: "Now that I have seen this mindblowing #undelete street art, I no longer think Uber is a company guided by rotten principals and principles."
"If you'd like us to #undelete how about #unharass women," Pando founder Sarah Lacy tweeted.
Uber has been struggling to grapple with a slew of controversies in recent months. The company hired former US Attorney General Eric Holder to lead an independent investigation into the sexism and sexual harassment allegations. Board director Arianna Huffington said in a recent memo to employees that Uber is extending the investigation to "ensure that no stone is left unturned". An internal report is expected by the end of May.
The company also admitted to using a secret "Greyball" tool to deceive law enforcement. It also allegedly used another software called Hell to secretly monitor rival firm Lyft's drivers and was accused of shortchanging both customers and its own drivers in the US.
Uber is currently looking for a new chief operating officer to help CEO Travis Kalanick steer the company. Multiple executives have left the company over the past few months, from president Jeff Jones and PR head Rachel Whetstone to its VP of global vehicle programmes Sherif Marakby.