11:00: Champions League last 16 draw
Paris Saint Germain v Chelsea, Manchester City v Barcelona, Arsenal v Monaco
Matches scheduled for 17-18 and 24-25 February.
Europa League draw scheduled for 12:00.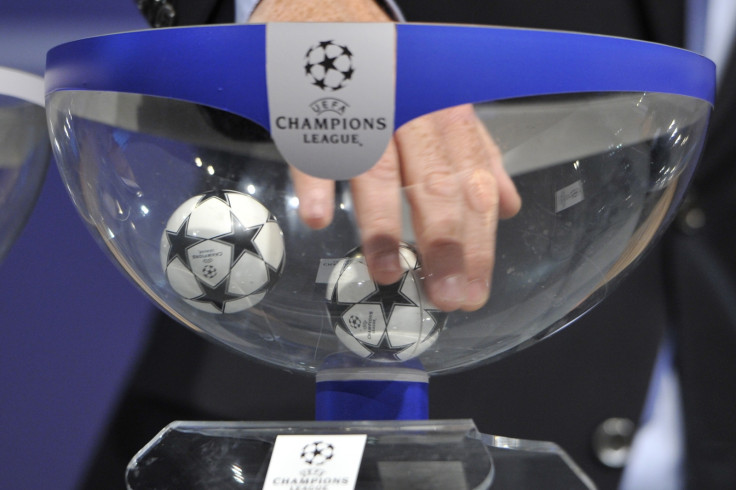 11:47: Ok well that is about all we have time for on this Champions League live draw blog. Head over here to follow live coverage of the last 32 draw for the Europa League which is due to get under way in the next 15 minutes. Four British clubs to get excited about over there. Until next time, goodbye.

11:42: Some Arsenal reaction to the draw...

11:37: Monaco midfielder Jeremy Toulalan: "We beat Arsenal in pre-season, but it'll be another game. For me it's 50-50."

11:35: We await the dates of each match, but expect Manchester City and Arsenal, who both play their second legs at home, to be kept apart. Real and Atletico Madrid will play on different nights too with both teams at home in the second leg.

11:30: No doubt that both Arsenal and Chelsea will be delighted with that draw. Monaco scored just four goals on their way to reaching the last 16 while PSG, who will bring former defender David Luiz with them to Stamford Bridge, are still perceived to be weak in defence despite having Zlatan Ibrahimovic to call upon.

The difficult task facing Manchester City is easily defined by the one-sided nature of the two-legged last 16 between the two sides last season, with Barcelona prevailing 4-1 on aggregate. Manuel Pellegrini will be hopeful of having Sergio Aguero back in full flight by then.
11:24: Worth looking at some of the other ties not including Engoish clubs. Bayer Leverkusen will host last season's runners-up Atletico Madrid, while Juventus will face Borussia Dortmund in a repeat of the 1997 final. Schalke take on holders Real Madrid in a daunting tie for the German opposition and Bayern Munich are pairing with Shakhtar Donetsk. Finally, FC Basel will play 2004 winners FC Porto.

11:18: So Jose Mourinho gets his wish and Chelsea will face Paris Saint Germain for a second straight season. Manchester City are also renewing rivalries from last season with Barcelona travelling to the Etihad Stadium. Arsenal meanwhile will be delighted with their luck, having evaded the big guns and been partnered with AS Monaco. Arsenal defender Per Mertesacker gets his wish.

FC Basel v FC Porto

Arsenal v Monaco

Shakhtar Donetsk v Bayern Munich

Schalke 04 v Real Madrid

Juventus v Borussia Dortmund

Bayer Leverkusen v Atletico Madrid

Manchester City v Barcelona

Paris Saint Germain v Chelsea

11:11: Ok here we go. Hold tight......

11:10: Giorgio Marchetti, our resident Uefa scientist, is now going through the drawing procedure. I have already done that for you (below). The unseeded teams will be drawn first, before the group winners follow. Nearly ready to go.

11:04: Michel Platini wishes his best to the attending clubs ahead of the festive period. Though the Frenchman is in attendance, Infantino is on hand to convey that message. Now the Uefa chief goes through a speech which I am sure has been churned out season after season in a monotone which defines his calm demeanor. Now a video montage of the 16 qualified clubs.

11:02: The calming influence of Gianni Infantino is in place and we're ready to go in Nyon. expect plenty of video montages and the like before any balls are pulled out of the hat as well as an appearance from the Champions League final ambassador Karl Heinz-Riedler.

10:56: We're around five minutes away from crossing to Nyon for the last 16 draw. Remember we have the Europa League draw following the action at Uefa headquarters so don't go anywhere. Celtic, Liverpool, Everton and Tottenham all involved there.

10:52: Debate continues to rage over how important qualifying top of your Champions League group actually is. Last season all eight of the seeded teams reached the quarter final after winning their last 16 tie and in three seasons before that just five unseeded sides have made it through. The trend at least suggest finishing top is important but try convincing Chelsea fans if they draw PSG or Juventus this morning. Similarly fans of Arsenal and Manchester City supporters, who will be praying to pull AS Monaco or FC Porto.

10:45: Naturally, our focus will be on the three Premier League clubs entering the last 16 stage, but who could they face in today's draw? Look no further:

Arsenal: Atletico Madrid, Real Madrid, AS Monaco, Bayern Munich, Barcelona, FC Porto
Chelsea: Juventus, FC Basel, Bayer Leverkusen, Paris Saint Germain, Shakhtar Donetsk
Manchester City: Atletico Madrid, Real Madrid, AS Monaco, Borussia Dortmund, Barcelona, FC Porto
10:38: If you're new to today's proceedings, then let me enlighten you. Each of the 16 qualified teams have been split into two pots depending on whether they qualified as group winners or runners-up. The teams will then be paired up, with the seeded sides (group winners) playing their home match in the second leg. Teams who played each other in the group phase or are from the same association are kept apart. In case you have been living under a rock, here are the pots.

Pot One (seeded): Atletico Madrid, Real Madrid, AS Monaco, Borussia Dortmund, FC Bayern Munich, Barcelona, Chelsea, FC Porto.
Pot two (unseeded): Juventus, FC Basel, Bayer Leverkusen, Arsenal, Manchester City, Paris Saint-Germain, Schalke, Shakhtar Donetsk.
10:30: So after three months of jostling for position, Europe's finest await to hear their fate as the Champions League begins in earnest. The draw for the last 16 signals the start of the old European Cup phase of a competition which has dragged on over the past 12 weeks. Arsenal, Chelsea and Manchester City are the three Premier League representatives but continental giants including Barcelona, holders Real Madrid and Bayern Munich are all in wait.