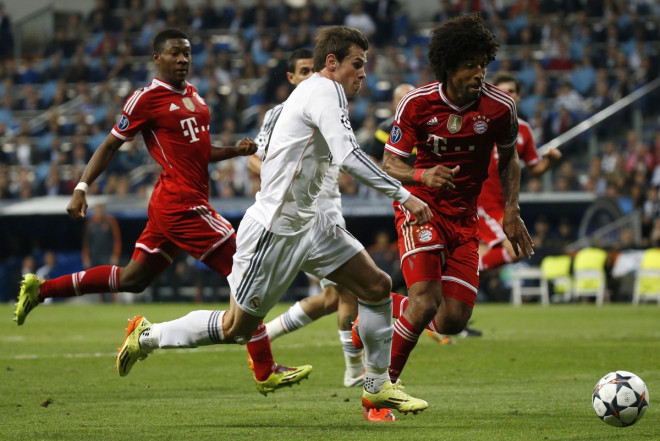 Uefa have ordered Real Madrid to close part of the Santiago Bernabeu stadium in their next home Champions League game due to the racist behaviour from supporters during their semi-final first leg against Bayern Munich in April.
Los Blancos beat the German giants 1-0 (5-0 on the aggregate) in that game before beating Atletico Madrid in the final.
But sections of Real's support were subsequently accused of directing racist chants towards Bayern players and the Uefa Control and Disciplinary Body have reacted by sanctioning the Champions League winners by partially closing their stadium.
An official statement read: "The UEFA Control and Disciplinary Body has handed down sanctions to Real Madrid CF following incidents during their UEFA Champions League semi-final first leg against FC Bayern München in the Spanish capital on 23 April.
Following the charge of racist behaviour by Real Madrid supporters during the match (Article 14 of the UEFA Disciplinary Regulations), the Control and Disciplinary Body has ordered the partial closure of the Santiago Bernabéu for one match. More specifically, sectors 120 and 122 of the stadium will be closed for the club's next UEFA competition home game. Real Madrid are obliged to display a banner with the wording 'No to Racism' in those sectors."
Uefa add that the "fight against racism is a high priority" for European football's governing body and they have a zero-tolerance policy towards racism and discrimination, both on the pitch and in the stands.
"All forms of racist behaviour are considered serious offences against the disciplinary regulations and are severely punished. Following the entry into force of the new disciplinary regulations on 1 June 2013, the fight against racist conduct has been stepped up – resulting in tougher sanctions to deter any such behaviour," the statement added.
Real Madrid's ban is the latest in a string of racist incidents in Spain, where earlier this season Barcelona star Daniel Alves was hit with a banana during a 3-2 win at Villarreal.
Furthermore, almost a decade ago in November 2004, England internationals Ashley Cole and Shaun Wright-Phillips were subjected to monkey chants from Spanish fans during a 1-0 defeat at the Santiago Bernabéu in Madrid.