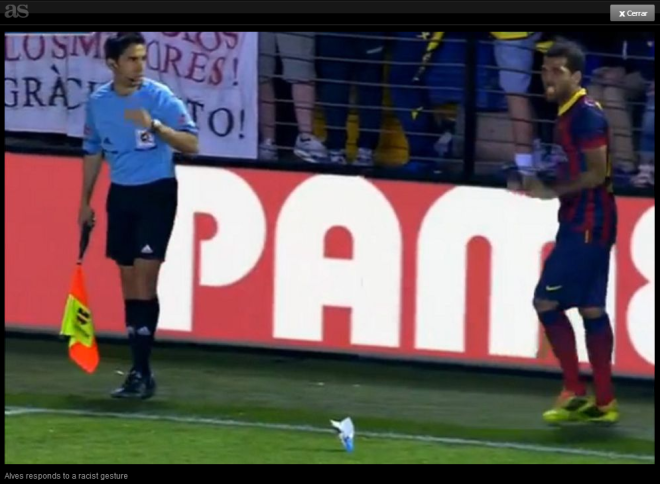 Spanish supporters are back in the eye of a racism storm after Barcelona star Daniel Alves was hit with a banana during Sunday's 3-2 win at Villarreal.
The Brazilian international right-back was about to take a corner when the banana landed on the pitch. His response was to pick it up, peel it and take a bite, before discarding it and swiftly taking the corner kick.
Asked about the incident after the game, Alves told Spanish newspaper AS.: "Who threw the banana? I don't know but I want to thank them because it gave me the energy to make two more crosses that ended up in a goal.
"You just have to take it as well as you can. We'll never change them. I've experienced the same thing for eleven years here in Spain and you just have to laugh at these retards. We have suffered this in Spain for some time. You have to take it with a dose of humour."
Meanwhile, Alves's teammate Neymar posted a picture with his son, with the winger holding up a banana with the hashtag "We're All Monkeys."
The referee reported the incident after the match and it is expected that the Spanish Federation will take action against Villarreal.
Yet, if history is anything to go by, the action will be minimal.
Litany of shame
Alves's abuse is just the latest in a string of racist incidents in Spain, where monkey chants and other jibes are commonplace with very few proper punishments imposed by the Spanish Football Federation.
Almost a decade ago, in November 2004, England internationals Ashley Cole and Shaun Wright-Phillips were subjected to monkey chants from Spanish fans during a 1-0 defeat at the Santiago Bernabéu in Madrid. In response, Fifa fined Spain just £44,750.
Chelsea striker Samuel Eto'o was also the subject of racism gestures by supporters on several occasions during his time in La Liga, especially at Barcelona. Back in 2006 he even threatened to leave the pitch during a game at Zaragoza La Romareda Stadium after receiving monkey chants, with the Spanish Federation fining the Aragones club just €9.000.
Fifa investigated Spanish supporters during Europe 2012 after Mario Balotelli was allegedly racially abused during one of the matches between Spain and Italy.
Given the profile of Alves, this latest incident is likely to receive more attention than any of those which preceded it. The world is looking to Spain to it action - but don't bet on it.