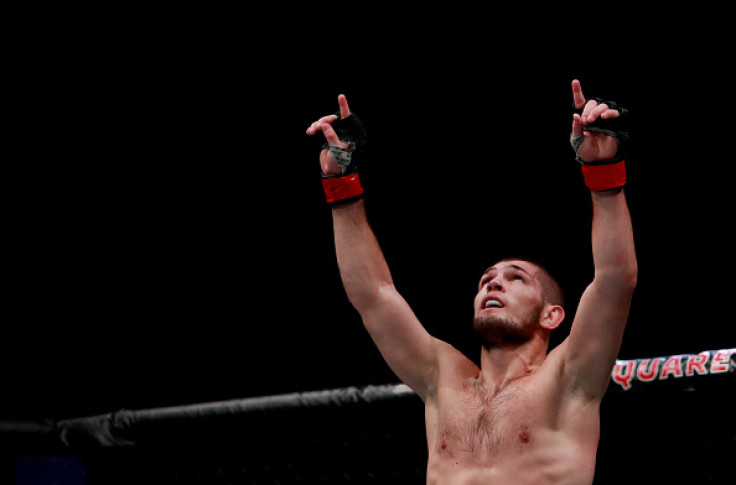 Ali Abdel-Aziz has revealed the events that took place the night that Khabib Nurmagomedov had to pull out of his interim lightweight title fight with Tony Ferguson at UFC 209 on 4 March.
The highly-anticipated bout between the two lightweight fighters was called off just a day before the pay-per-view, a situation that Ferguson called a nightmare especially after both fighters had put in a lot of work during their training camps.
Nurmagomedov recently issued a statement on Instagram before his manager and friend, Abdel-Aziz revealed what exactly happened the day of the official weigh-ins.
"Normally we're supposed to get back at 6 o'clock in the morning and cut weight," Abdel-Aziz said as quoted on MMAFighting. "But at 3:45 in the morning I went to the room — and my room was right next to his room, and he was in so much pain."
"And after that I panicked. Because this is not just somebody I manage, this is my little brother. I have a different relationship with all the guys I manage, because if I can't be your friend or we can't be like brothers, we can't work together.
"I panicked, and the first thing I wanted to do, I wanted to help him. I wanted to bring some care to him. I thought about calling 911, but I thought, listen, we can pick him up. When we picked him up, the whole group, he couldn't even walk. We put him in my car and drove straight to the hospital. On the way to the hospital I tried to get a hold of the UFC. It was 4 o'clock in the morning by the time I got to the car."
As for what happened to "The Eagle" medically, Abdel-Aziz explained: "Two days before the fight he had a little flu, but he took his vitamin C, and he was feeling alright. It was something very minor, and he didn't even need to go to a doctor. Vitamin C, rest and sleeping."
"When you cut weight your immune system goes down. The weight cut, I'm telling you, it was the same as every time, and every time he makes weight. The last time he fought Michael Johnson, he makes weight. But I think this time, something different. The pain was coming from his liver, but I think the dehydration for sure, and I think it was part of the process."
While Ferguson is targeting Conor McGregor next as a fight between him and the Russian has failed to take place for the third time now, Nurmagomedov's comeback is complicated with Abdel-Aziz ideally preferring for the 28-year-old to return at UFC 211, which takes place at the American Airlines Center in Dallas in May 2017.
"At the end of the day, Buffalo [UFC 210 in April] is not realistic," he added. "I haven't talked to Khabib yet about any fighting. May might be an option, but you know, Khabib is not going to fight at Ramadan, and Ramadan is going to start May 26.
"So maybe May, maybe, but I don't know if Khabib will be ready, because at the end of the day his health and well-being are worth a lot to me than making money. Money comes in last."