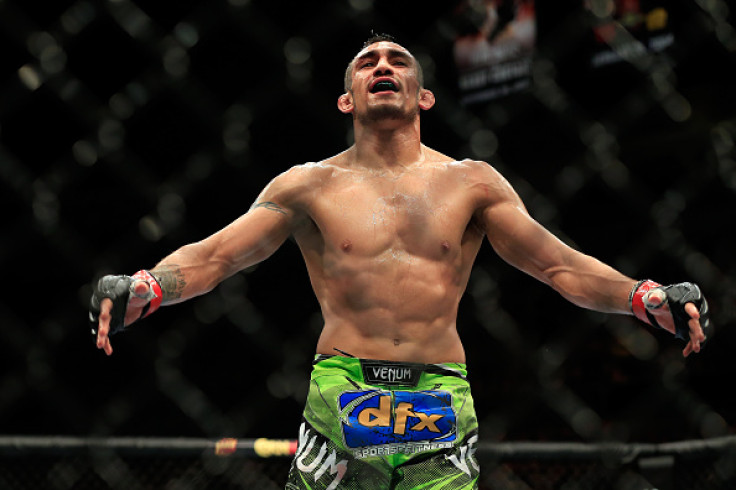 Tony Ferguson has revealed what it was like to receive the news that his highly anticipated interim lightweight title bout with Khabib Nurmagomedov at UFC 209 was called off.
With just a day to go until the pay-per-view, the fight was cancelled due to Nurmagomedov's "weight management medical issues", making it the third time that a bout between the two fighters has been cancelled.
Ferguson said the news was a hard pill to swallow but that he wished Khabib well on Twitter as he did not have his number.
"I can't even say how I felt," Ferguson said on Fox. "It's still kind of a hard pill to swallow. I prepared really hard for this fight and I know he did, too. It sucks, man."
"First thing I thought about was sending him a text but I didn't have his number obviously. You know, I sent him a message on Twitter just to wish him good luck because I don't wish that bad luck on anybody. I know he's a true warrior. He's gonna bounce back."
Many fighters like Lando Vannata and Michael Johnson offered to be a replacement opponent. However, the UFC offered Ferguson less money with no interim title on the line, so he declined.
"They offered me Michael Johnson," Ferguson added. "They wanted to cut my pay. They didn't want to offer me a title shot. They didn't want me to do anything along those lines."
"I understand it's a business. But I'm a man, I have a family to support and [I understand] the business, but the time and effort that I put into this — especially Khabib — it just kind of sucks. It's just a really, really crappy thing to go through."
After the weigh-ins at the T-Mobile Arena in Las Vegas, the 33-year-old showed up to address the fans as he spoke to Joe Rogan.
"I thought it was a nightmare, man," Ferguson said. "Something worse than El Cucuy. It was just some s**t that he had to go through, this happens in the fight game."
"No disrespect to the UFC or to Khabib. Everything happens for a reason. This is a fighter's sport, man. So I want every single one of you to give love to the UFC and give love to Khabib. And I really want you guys to buy this pay per view, because the rest of the f******g card is amazing.
"Stay awesome. Make sure you follow me on the way to victory. I love every f******g one of you."
UFC president Dana White later said he would figure out what would be next for both Ferguson and Nurmagomedov following the event.