UFO Spotted Near Nasa's International Space Station [VIDEO]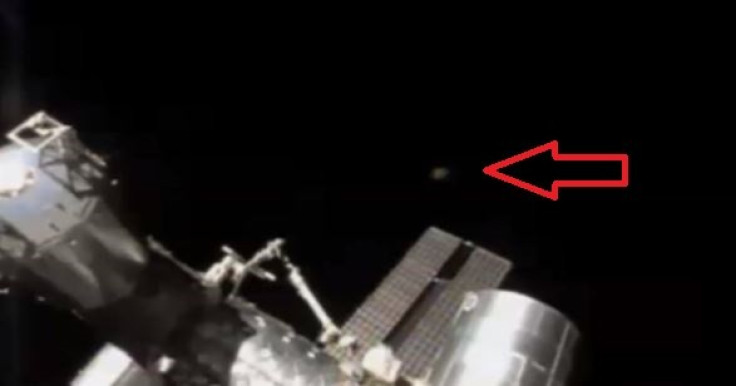 Two unidentified flying objects (UFOs) were spotted near Nasa's International Space Station (ISS) on Friday.
The UFOs are believed to be visible on a live video feed from the ISS camera, which maintains a 24-hour feed.
UStream says, "Live video from the International Space Station includes internal views when the crew is on-duty and Earth views at other times. The video is accompanied by audio of conversations between the crew and Mission Control. This video is only available when the space station is in contact with the ground."
The sighting was made by UFO enthusiast and blogger Scott C Waring, who wrote on his blog: "This UFO must be huge, because the space station itself is 109 meters across and 73 meters wide, and in comparison with the space station and the distance we can assume the smaller of the UFOs is about 5-10 meters and the longer UFO is about 20-25 meters."
"Also note in the video that the astronaut asks about the interval between the photos taken from the live cam on the ISS, as he hints at the UFO being there without actually saying so," he added.
One of two videos of the sighting has been uploaded on YouTube.
Check out the video here:
[Video Courtesy: YouTube/Streetcap1]
Earlier this week, hundreds of baseball fans were left baffled when a UFO was spotted during a minor league game. The match was taking place at the Scotiabank Field at Nat Bailey Stadium in Vancouver, Canada.
The sighting, which brought luck for the Vancouver Canadians (the eventual winners of the match), came towards the start of the sixth innings and also got viewers tweeting photos of the unusual object with glowing lights. No explanation for the sighting has been made.
© Copyright IBTimes 2023. All rights reserved.