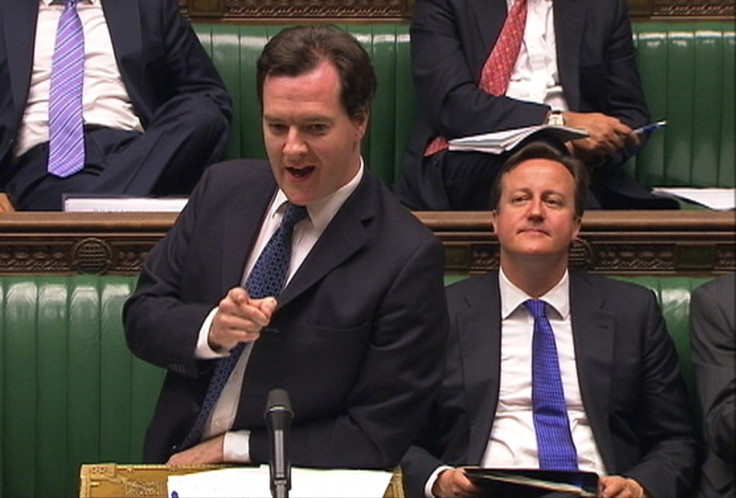 Britain is at risk of losing its top-notch AAA sovereign rating, according to a latest poll by Reuters. The survey followed a depressing GDP figure that showed the UK economy contracted 0.7 percent in the second quarter, the sharpest quarter-on-quarter slump in three years.
"A worsening growth outlook threatens (Britain's) fiscal goals. The risk of losing AAA status is rising," Nick Stamenkovic, macro strategist at RIA Capital Markets in Edinburgh, told Reuters.
The probability of Britain losing its triple-A rating in 2013 ranges from a low of 5 percent to a very high of 80 percent, according to a sample poll of economists and bond strategists.
Though the British public is not happy with Chancellor George Osborne's fiscal austerity measures aimed at reducing the budget deficit, a little above half of the 60 economists polled are in favour of continuation of the programme.
Credit rating agencies Moody's Investor Service and Fitch Ratings also put warnings on Britain's triple-A rating pointing to the probability of Britain losing it if the government goes back on its austerity programmes.
Citigroup, in its latest analysts' report, noted that the UK would lose its AAA rating in the next two to three years due to continued economic weakness.
The economy is facing huge spending cuts and public service layoffs. Economists expect further bond purchases by the Bank of England (BoE) to the tune of £400bn probably by November. The BoE has injected up to £375bn in the economy so far by way of bond purchases.
The British economy is expected to grow at 0.6 percent in the third quarter thanks to increased revenue from ticket sales and tourism during the Olympics.