The UK welfare system is one of the most heated topics of discussion in Britain today.
As the coalition government took its first step in implementing the controversial Universal Credit welfare system in Ashton-under-Lyne, followed by Oldham, Warrington and Wigan in Greater Manchester in July, the topic of who will lose out from the overhaul has reared its ugly head again.
But stepping aside from the court of public opinion and party politics, IBTimes UK has looked at the cold, hard facts in order to debunk the myths that mask the truth behind Britain's benefit system.
How Much Does the UK Government Spend on Welfare?
The Department for Welfare and Pensions (DWP) is the largest spending department in the UK.
In 2011-12, the department spent £166.98bn overall, but £159bn was spent on benefits.
This accounts for 23% of public spending.
This is an increase of 1.1% on the previous year.
How Much Do Taxpayer's Pay?
Welfare payments account for nearly a quarter of UK public spending and account for the largest slice out of the taxpayers' pocket every day [Fig. 1].
According to Hansard parliamentary reports, the individual taxpayer stumps up £5.95 per day for welfare. The second largest daily spend goes on health at £3.11.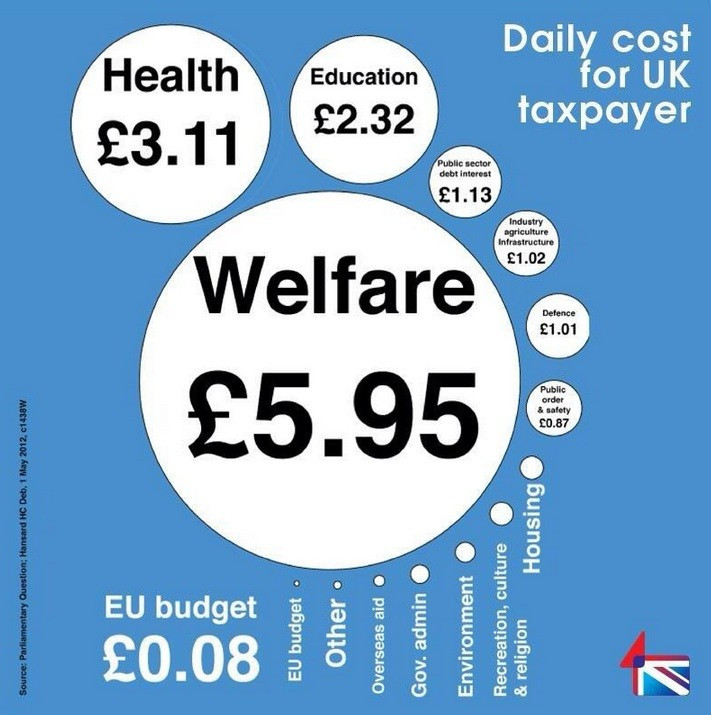 Where Do Welfare Payments Go?
The UK benefits system is a complicated one but ask any member of the public and the assumption is that most of the money goes on unemployment benefit or incapacity benefit.
However, the largest proportion of Britain's benefit spending went on state pensions, accounting for 47% of total yearly payments.
In 2011-12, £74.22bn was spent on state pensions, while more than £48.2bn went on the UK servicing its own debt.
Jobseekers' Allowance accounts for one of the smallest percentages of UK welfare payments, at £4.91bn.
Have Welfare Payments Risen?
While a number of benefits under the welfare system account for a smaller chunk of total spending in this area, most have risen from the previous year.
Jobseekers' Allowance saw an increase of 7.6% on the previous year for payments, standing at £4.91bn in 2011-12, but still account for one of the smaller benefits within the system.
Disability living allowance rose by 3.3% to of £12.57bn while housing benefit rose by 5.2% to £16.94bn.
How Much Is Lost In Benefit Fraud?
According to the most recent publication of DWP's estimates of fraud in the welfare system, overall fraud accounted for 0.7% of the benefits bill.
This number accounts for £1.2bn lost to fraud each year.
Fraud includes "intentionally not reporting a change in your circumstances or being dishonest in order to get benefits."
Immigrants Claiming Welfare
Immigration affecting Britain's welfare system is another topic that results in heated debate.
According to the benchmark international survey of migration perceptions by Transatlantic Trends, UK residents said they believe that foreign-born individuals account for a third of Britain's population.
However, around 11% of the UK population were foreign-born as of 2011.
The number of UK residents born abroad accounted for 7.5 million in 2011, from 4.6million in 2001.
DWP figures show 600,810 migrants applied for a National Insurance number to work or study.
However, these figures do not include migrants who arrive in Britain illegally.
In tandem, a study by the Central European University called Unemployment Benefits and Immigration: Evidence from the EU, found that immigrants to the European Union are less likely to live on welfare than the native population.
Out of the some six million people claiming benefits in the UK, the DWP said in January 2012 that 371,000 people claiming working-age benefits were non-UK nationals.
It also added that among that number, 258,000 were non-EEA nationals.
Whitehall said the number of non-UK residents in social housing rose from 6.5% in 2007 to more than 9% in 2011.
However, research from the Equality and Human Rights Commission in 2009 revealed that migrants in the UK over the previous five years made up less than 2% of those in social housing.