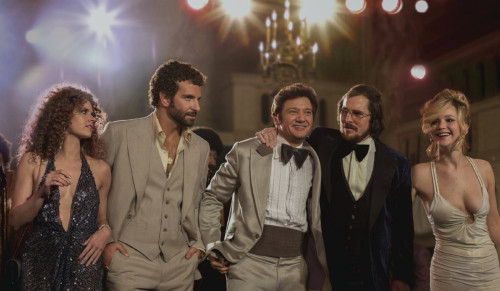 American Hustle tops the first UK box office top 10 of 2014, ahead of The Hobbit: The Desolation of Smaug and Disney animation Frozen.
Peter Jackson's second Hobbit movie had been enjoying a Smaug-like reign atop the box office mountain, but David O Russell's drama had enough star power and awards season hype to dethrone Warner Bros' fantasy adventure.
Receiving a wide release after a limited run late last month, American Hustle took £3.46 million compared to The Hobbit's £3.2m and Frozen's £2.92m.
New entry's Last Vegas - starring Michael Douglas, Morgan Freeman and Robert DeNiro - and horror film Paranormal Activity: The Marked Ones complete the top five.
Elsewhere Mandela: Long Walk to Freedom opened at seven, bringing in £1.47 million.
The UK box office top 10 in full...
1. (-) American Hustle - £3,467,644
2. (1) The Hobbit: The Desolation of Smaug - £3,200,972
3. (2) Frozen - £2,922,721
4. (-) Last Vegas - £1,811,695
5. (-) Paranormal Activity: The Marked Ones - £1,584,354
6. (3) Anchorman 2: The Legend Continues - £1,543,091
7. (-) Mandela: Long Walk to Freedom - £1,472,500
8. (4) The Secret Life of Walter Mitty - £1,184,474
9. (6) Walking with Dinosaurs - £757,637
10. (7) The Hunger Games: Catching Fire - £538,493