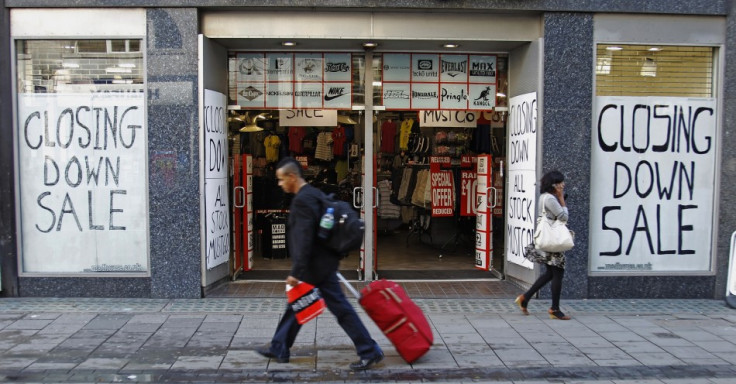 The latest firm to go bust, shoe maker Barratts Priceless Limited, is yet another victim of a bad year for business.
Barratts' 3,800 staff are at risk as it goes into administration for the second time, the last being in 2009.
They join a long list of companies struggling to stay afloat in 2011's turbulent economic waters.
Around 3,000 jobs went after the chain Focus DIY went into administration in May.
It battled with credit difficulties, before administrators Ernst & Young were called in to try and find a buyer for the firm, or sell off its assets.
Some stores were sold to Wickes, which it once owned, while the remaining 120 were closed down.
Furniture retailer Habitat put 30 of its 33 stores into administration when its debts got too heavy.
"A return to profitability for the business in the UK appears unlikely in the near term as many of the stores are expensive and poorly located for a furniture retailer," said a Habitat statement at the time.
It left 750 employees with uncertain futures.
Walmsley, another furniture chain, took its 63 stores into administration, though it managed to sell 25 off.
Jane Norman, the women's fashion chain, made 400 staff redundant as it sold 33 stores and called in the administrators in June.
Sport Media Group, which publishes newspapers known more for shapely women's assets than their parent company's financial ones, ceased trading after it couldn't pay its creditors.
Chocolatier Thorntons and electrical goods giant Comet were both forced to close stores and axe jobs, as they attempted to prevent the administrators darkening their aisles.
Comet was sold for £2 in November, after its September figures showed a plunge in revenues of 22 per cent.
Car maker Saab's UK outfit, Saab GB, went into administration at the end of November. Its car production had been suspended for some time.
"The board of Saab GB is of the opinion that administration gives the company and creditors the necessary legal protection until it has secured the required funding for the company," said a statement from the company.
How Bad is the Outlook for 2012?
As inflation remains around five per cent, more than double the government's two per cent target, incomes are being squeezed and consumers don't have the same spending power they used to.
On top of this banks are much more prudent in their lending, meaning struggling firms often hit a brick wall when trying to persuade their bank managers to administer a much-needed cash injection.
To make matters worse, all but the final nail is in the euro zone's coffin. Any collapse could be catastrophic for the UK economy.
The Confederation of British Industry (CBI), which lobbies on behalf of UK businesses, gave grim economic forecasts ahead of Chancellor George Osborne's autumn statement.
They predict zero growth in the final quarter of 2011 and 0.2 per cent growth in the first quarter of 2012.
"The recent turbulence in the euro zone has seriously dented business confidence, which has led to a reappraisal of investment and export prospects," said Ian McCafferty, CBI Chief Economic Adviser.
"Survey evidence points to economic growth having stalled in coming months, resulting in a significantly weaker outlook for the year ahead."
There are predictions that Britain will experience a double-dip recession, with negative growth in the first part of 2012.
However the Bank of England says it's confident that inflation will fall to around the government's target in the second-half of 2012.
This would give consumers much-needed relief from high prices, particularly in the energy market where electricity and gas prices are crippling British households.
In any event 2012 is going to be just as turbulent for British business as 2011.
With losses and growing debts carried over, it could prove even worse.