h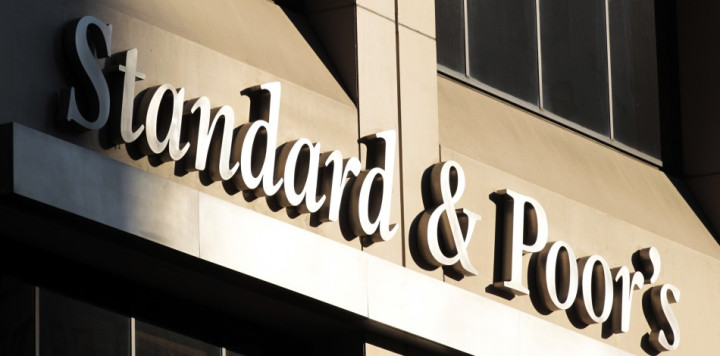 Standard & Poor's lowered the outlook on Britain's triple-A debt rating just hours after Chancellor George Osborne defended his controversial budget statement to UK lawmakers.
The ratings firm said it was maintaining the coveted top AAA grade on Britain's debt rating but had changed the outlook from stable to negative, suggesting a one-in-three chance that a downgrade could come within the next two years. The ratings firm also lowered the outlook on the AAA debt rating for the Bank of England and debt programme of Network Rail Infrastructure Finance plc.
S&P cited the chancellor's admission that Britain's overall debt, as a percentage of its economy, would continue to rise until 2015 before declining again.
"We are therefore revising our outlook on the unsolicited long-term ratings on the UK to negative, from stable, reflecting our view of a one-in-three chance that we could lower the ratings if the UK's economic and fiscal performances weaken beyond our current expectations," S&P said.
"We expect economic growth to rise slowly in the medium term, with net general government debt as a percentage of GDP continuing to rise in 2015, instead of stabilising in 2014 as previously expected.
If economic growth recovers more slowly than we forecast - due to domestic factors or waning economic performance by the UK's main trading partners - such slow recovery could result in net general government debt approaching 100% of GDP, by our calculations, from its current estimated level of 85% of GDP in 2012."
Twin pillars of economic strategy
The decision follows a similar move by Fitch Ratings last week, which cited the chancellor's autumn statement and the fact that key debt and deficit targets - the twin pillars of the coalition government's economic strategy - would not be met.
The chancellor told lawmakers that the biggest test the government faces for its fiscal credibility is its borrowing rates in the bond market, not Britain's AAA credit rating - backtracking on his past position that it would be "humiliating" if the government were to lose the top rating and comes after he was forced to admit in his autumn statement that he would miss a key debt target.
"The test we have is one we have to meet every week when we go and try and sell our gilts," Osborne told MPs at a Commons Treasury select committee hearing.
"Gilts will probably continue to trade as a relative safe haven, but the AAA-rating is unlikely to be maintained by all three of the
main agencies and, as a result, they will lose a little of their sheen," wrote RBS economist Ross Walker in his 2013 outlook research note to clients. "We would be surprised if, by this point next year, the UK was still ranked AAA by all three of the main agencies."
Osborne has long held up the country's AAA credit rating as a justification for his austerity programme in the face of a worsening economy, which slumped to a double-dip recession at the end of 2011 and called into question his government's strict adherence to its fiscal policy.
When asked recently for his thoughts on losing Britian's top debt grade, Osborne told the BBC: "It wouldn't be a good thing but the credit rating is one of a number of ways in which people look at countries. Because when people look around the world and they look at countries to invest in they think Britain is a good investment."
Britain has held its AAA staus since the early 1970s and has maintained it through the infamous "Winter of Disconent" in 1979, its crashing out of the European Exchange Rate Mechanism on "Black Wednesday" in 1992 and the global financial crisis of 2008.
HSBC notes that, following the recent downgrade of France, the US is the only similar economy in terms of overall debt that still holds a top debt grade from one of the three major agenices. In 2011, S&P cut the US's triple-A rating for the first time as the country was embroiled in a bitter partisan dispute over its debt ceiling.
"Having a plan is one thing, but the UK can only be given the benefit of the doubt for so long," wrote HSBC's chief UK economist Simon Wells, referring to the Chancellor's austerity-led strategy for fiscal improvement. "The ratings agencies want to see debt metrics stabilise in the medium term. If fiscal pain is kicked too far down the road, a downgrade is inevitable."