Drone-related crimes in the UK are on the rise, according to police records. Reports concerning drone cases have surged in recent months, with the British police being called on to investigate incidents involving tech savvy drug dealers, suspected paedophiles filming playgrounds and more.
According to information obtained by the Independent via Freedom of Information (FOI) requests, reports on illegal drone activities surged by 352% between 2014 and 2015. In 2016 alone, 272 drone-related incidents were reported between January and May, with every expectation of further increase in such incidents. Given that only 21 of UK's 45 police forces responded to the Independent's FOI requests, the true statistics of drone related incidents reported may be considerably higher.
Birmingham University professor David Dunn, a UAV (Unmanned Ariel Vehicle) expert said, "What you have is a massive proliferation of easy access to the air from machines that have the capacity to cause nuisance, to carry out surveillance, to cause potential injury and to frighten people and cause collisions with cars and airplanes."
Dunn also stressed the need for regulation and accountability, pointing out the ease with which criminal elements can get their hands on a drone. "At the moment, you can buy one of these things in a supermarket without any safeguards," he said. "These machines have the ability to actually deliver drugs into prisons, to deliver sim cards into prisons."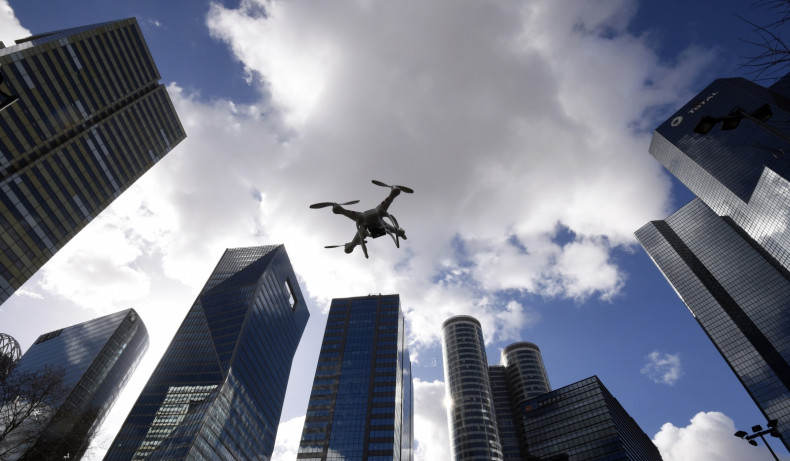 Drones over prisons
There have been an alarming number of drone sightings around prisons. At HM Prison Leicester, mobile phones and drugs, among other things were found attached to the netting surrounding the prison. Prisons in Bovingdon, Exeter, Bedford and Greyfriars also saw a surge in such similar interceptions.

Steve Barry, the National Police Chiefs' Council's lead on Unmanned Aerial Systems, told The Independent: "Both the Police and Civil Aviation Authority (CAA) are aware of the ever increasing use of drones by members of the public and are keen to ensure that people are aware of the rules that apply to their use.
Drones facilitating crime
There have also been reports of drones flying over playgrounds in Kingswinford, Dudley, and schools in Hemel Hempstead and Northumbria, inciting fears about potential paedophiles filming at such areas. Additonally, in London, drone-related sexual offences were reported, with the Metropolitan police classifying the crime as "voyeurism". South Wales police department also revealed a case about a drone having been used to film a young woman while undressing in her apartment.
Reports concerning drones interfering and endangering commercial airlines have also been uncovered. There have been several incidents of pilots having been distracted by the sudden appearance of drone in their flightpaths, the ArsTechnica reported.
However, drones continue to be popular among both consumers as well as tech giants. In July, Amazon gained permission from the UK government to begin testing drone deliveries in Britain's suburbs and rural areas.