Amazon gets go-ahead from UK to test its drone delivery in suburb and rural areas
The CAA will be involved in this project to explore safe use of drones.
Amazon has partnered with the UK government to start testing its delivery service with the help of small drones, the company recently announced.
Amazon's new delivery system — Prime Air — is a system designed to get packages weighing up to five pounds to consumers within just 30 minutes or less using small drones. The company has been working on delivery-by-drone since 2013, when founder and chief executive officer Jeff Bezos revealed that the plan requires more safety testing and FAA approvals.
The functions of the drone delivery system were first revealed through a video shared by Amazon in 2015 where Jeremy Clarkson explained details about how it works. The Amazon drone can fly for 15 miles and uses "sense and avoid" technology to know what is happening around and sense obstacles on the ground as well as in the air.
Amazon said a cross-government team supported by the UK Civil Aviation Authority (CAA) has given Amazon permission to explore the drone delivery system.
"...We've been investing in Prime Air research and development here for quite some time," said Paul Misener, Amazon's vice president of Global Innovation Policy and Communications, "This announcement strengthens our partnership with the UK and brings Amazon closer to our goal of using drones to safely deliver parcels in 30 minutes to customers in the UK and elsewhere around the world."
Misener further promises the delivery system, which is aimed to improve consumer experience, will create more job opportunities for people in the country.
The CAA will be fully involved in the work to explore the safe use of drones. Such drone testing technology will help in the development of policy and regulations in this area in the future. "We want to enable the innovation that arises from the development of drone technology by safely integrating drones into the overall aviation system," said Tim Johnson, CAA policy director. "These tests by Amazon will help inform our policy and future approach."
Amazon is not the only company working on a drone delivery system. Earlier in January, Google was granted with a patent for a drone delivery product that contains space to store packages securely. The patent describes a delivery receptacle designed to take packages from an aerial delivery device for deposit to a secure location. Even retail giant Walmart is developing its own drone to check warehouse inventories.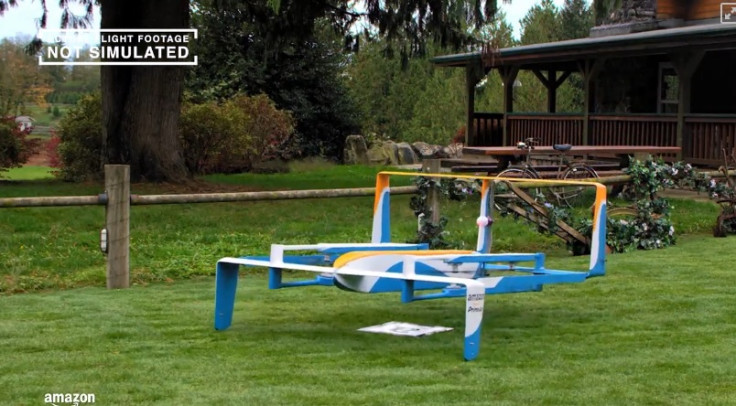 © Copyright IBTimes 2023. All rights reserved.