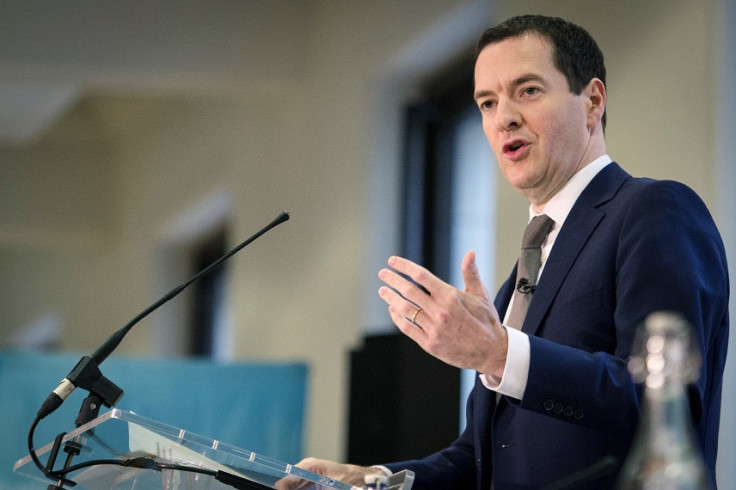 Chancellor George Osborne continues to face an uphill struggle in cutting the UK's budget deficit after public borrowing increased by 10% in November. Government finances for last month were worse than expected with public sector net borrowing ballooning to £14.2bn ($21.1bn) – a £1.3bn rise compared to the same month a year ago.
The figures, released on 22 December, provide the first monthly snapshot of the government's finances since Osborne delivered his Autumn Statement. They pose a significant challenge for the chancellor to reach his borrowing target of £68.9bn by March 2016 and fulfil his pledge to achieve a budget surplus by 2020.
While the Office for Budget Responsibility (OBR) said it expects a substantial improvement in public finances over the final months of 2015-16, the figures came as an unwelcome shock to economists who had forecast a drop in net borrowing to £11.8bn for November. The budget shortfall so far this fiscal year, from April to November, is £66.9bn, only £2bn short of the target for the fiscal year to March.
Paul Hollingsworth of Capital Economics said: "If we assume that the trend seen so far this year continues, then borrowing for 2015-16 as a whole would come in at around £81bn. The upshot is that, barring a Christmas miracle, the chancellor looks extremely unlikely to meet his borrowing forecasts this year."
The Office for National Statistics said November 2014's figures were helped by about £1.1bn in fines paid by financial institutions relating to a scandal in foreign currency trading, which were not repeated this year.
Osborne was dealt a similar blow to his deficit-cutting ambitions in November when October's figures were published in the run up to his Autumn Statement. Net borrowing reached £8.2bn for the month – £1.1bn higher than October 2014 – representing the worst performance for six years.
The key month for Osborne is now likely to be January, when a large surplus is traditionally recorded as final payments of self-assessed income tax pour in.
Annual borrowing has generally been falling since the peak in the financial year ending March 2010, and so far this fiscal year it is £6.6bn less than it was a year ago. Commenting on the figures for November, David Kern, chief economist at the British Chambers of Commerce, said the budget deficit is "still too high".
He said: "Although we saw a minor setback in November, gradual progress is being made with reducing the deficit. The public finances are likely to be better this year than in the previous financial year, but the improvement may not be as large as the OBR suggested in the Autumn Statement. The underlying message remains that our budget deficit is still too high, and greater efforts are needed, through reducing current public spending and generating sufficient tax receipts."
Howard Archer, chief economist at IHS Global Insight, said: "The chancellor now faces a massive task to meet his fiscal targets for 2015-16 and it is frankly hard to see how he can make it."