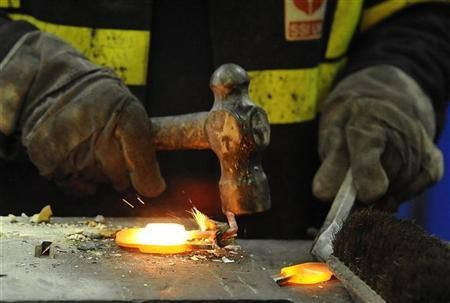 Britain's industrial output dived by 3 percent year-on-year in October, according to the Office for National Statistics (ONS), in the latest piece of UK economic data that suggests the country is back in decline after emerging from recession in the third quarter of the year.
Manufacturing production tumbled at the start of the final quarter, reported the ONS, which followed worrying private business surveys showing slowing activity across two of the economy's three main sectors.
Between September and October, production fell by 0.8 percent, marked by a 3.9 percent decline in mining and quarrying output and a 1.3 percent fall in manufacturing.
Coke and refined petroleum manufacture plummeted by 19.6 percent month-on-month, which the ONS said was largely due to planned maintenance at productions sites.
"Although we should not focus too much on one month's figures, it is clear that the manufacturing sector is facing major obstacles to a sustainable recovery," said David Kern, chief economist at the British Chambers of Commerce (BCC).
"However there is no justification for pessimism. Manufacturing is still a significant sector of our economy and is still benefiting from a competitive exchange rate, notwithstanding sterling's rise over the past year.
"Weak growth in world trade will limit the scope for significant rises in manufacturing exports, but the sector is well-managed, and has the potential to recover.
"Crucially, many manufacturing firms have been able to maintain their skillbases during the recession."
Private sector service firms reported their slowest rate of rising business activity for almost two years in November in a monthly index compiled from surveys of purchasing managers.
Britain's service sector accounts for around three quarters of its economy.
In the same measure for the construction sector, firms reported a renewed slowdown in activity as output sank back into contraction during November.
The sector saw its sharpest fall in new business orders since April 2009.
Manufacturing purchasing managers reported a rise in activity, though not enough to lift the sector out of its continued contraction.
Leading economic forecasters such as the Bank of England and International Monetary Fund all predict a worsening outlook for UK growth.
Independent fiscal watchdog the Office of Budget Responsibility slashed its forecast for 2012 to a -0.1 percent decline from original predictions of 0.7 percent growth.
UK GDP swelled by 1 percent in the third quarter, ending the double-dip recession, lifted by the London 2012 Olympic Games and a positive base effect in the data, as anomalous lost output from an extra public holiday for the Queen's Diamond Jubilee corrected itself.
With a series of disappointing figures in the final three months of the year, some economists believe the country is headed for a triple-dip recession.
Bank of England policymaker Martin Weale warned of a potential triple-dip in October.
"I certainly would not say there is no risk of [a triple-dip recession] happening," he said.
"What we have learned over the last four or five years is the capacity of the economy to surprise in ways people might not have thought possible."