UK Employment Will Rise as Wage Decline Continues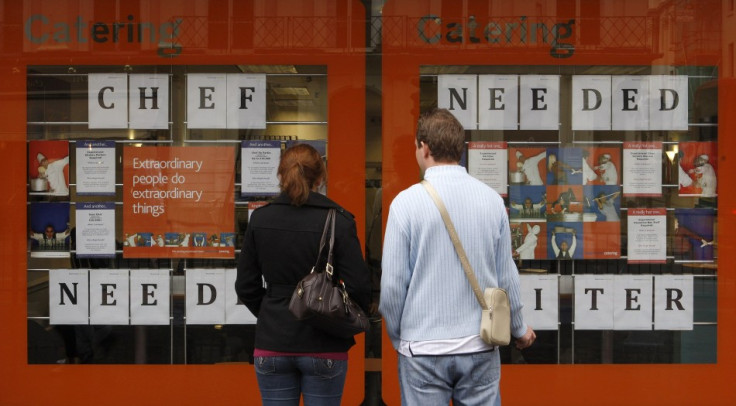 Employment levels will rise for the fifth consecutive quarter but wages will continue to decline.
According to spring's quarterly labour market outlook from the Chartered Institute of Personnel and Development (CIPD) and HR data systems specialist Success Factors, the number of people in jobs will rise in the three months from April to June as confidence in the private sector grows, though temporary staff and the underemployed still face an uphill struggle to find sufficient work.
Wages are still falling as modest pay increases are outpaced by a rising cost of living, said the report.
"With some economic forecasters predicting a rise in unemployment this year against the backdrop of a projected population increase of roughly half a million people this year, the challenges facing jobseekers lacking in experience or skills may increase further in the next 12 months," wrote Gerwyn Davies, CIPD Labour Market Adviser, in the report which surveyed 1,000 employers and HR professionals.
A triple-dip recession looks to have been averted after an initial GDP estimate from the Office for National Statistics (ONS) showed 0.3% growth in the first quarter.
However, the underlying economy remains weak and the outlook has deteriorated.
Britain's public finances have lost their AAA status at two of the three leading credit rating agencies and growth forecasts have been slashed by the Bank of England and International Monetary Fund (IMF).
The IMF cut its 2013 forecast to 0.7% for the year and cautioned Chancellor George Osborne over his austerity programme, warning that it could make the economy even worse unless he slows the pace of his public cutbacks.
Public debt sits above £1tn and is forecast to keep rising as a portion of GDP until at least 2016/17 - peaking at 85.6% - two years later than Osborne had said it would as output remains weaker than expected.
Inflation sits at 2.8% and is projected to pass the 3% mark again. Official statistics show wages have fallen to similar levels a decade ago.
Despite the concerns from economic forecasters, the CIPD/Success Factors report found growing optimism about employment prospects in the private sector.
However, some sub-sectors in private industry - as well as the austerity-bitten public sector - were still facing a redundancy threat in the second quarter.
"Redundancy pressures have returned in the finance, insurance and real estate sector during the previous three months," said the report.
"The number of employers in the sector that plan to make redundancies in the second quarter of 2013 has increased to 48% from 34% in the previous report.
"As in previous reports, the public administration and defence sector, which primarily includes central and local government, are the most likely employers in the public sector to make redundancies during the same period (41%).
"However, this sector has seen a drop in redundancy intentions since the last survey (48%).
© Copyright IBTimes 2023. All rights reserved.