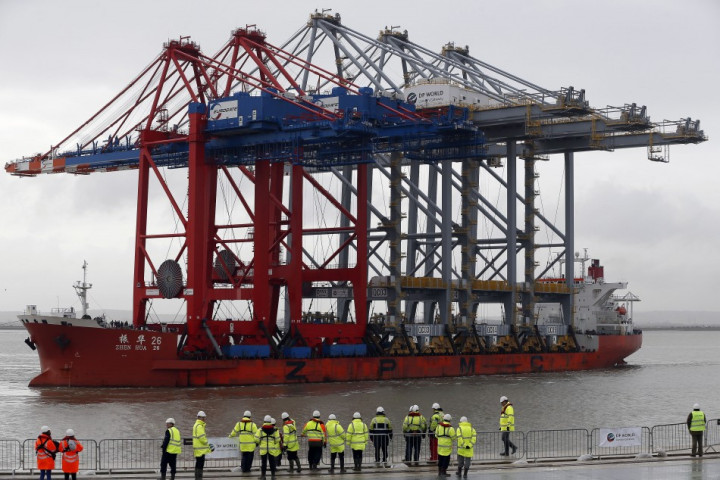 Both UK-EU imports and exports lifted in March as the debate around British membership in the European Union intensifies.
HM Revenue & Customs data shows imports from the EU grew by £1.9bn (€2.2bn, $1.5bn) in March, while exports to the 27-member state rose by £400m.
The UK's EU trade deficit widened by 31.8%, to £6.1bn.
This is the "biggest increase in the trade gap in recent years," said HMRC.
Prime Minister David Cameron has published a draft bill that, if it passes successfully through parliament, will set in stone a 2017 deadline for an in-out referendum on the UK's EU membership.
The EU represents around half of the UK's total trade. Access to the single market, with benefits such as the free movement of labour and tariff-free trade, is important to British business.
However, many complain about the red tape from Brussels. They say EU law on areas from labour rights to health and safety is too restrictive and costs them a lot of time and money.
Cameron has pledged to renegotiate the UK's terms of membership of the EU as a compromise. He wants the country to remain in the single market, but has argued that Britons must be asked about if they want to keep the country's membership or not.
A common perception among Britons is that the EU is an undemocratic bureaucracy that erodes the sovereignty of its member states. There are also concerns about immigration from the EU, but many businesses say they rely on foreign labour to plug the country's skills gap.
The London Chamber of Commerce and Industry (LCCI) published a report that showed its members backing EU membership on new terms.
"While the immigration debate is an emotionally charged issue, all evidence suggests that migration benefits London's economy," said LCCI's report, Help or Hindrance? The value of EU membership to London business.
"EU workers in particular are net fiscal contributors, paying more in taxes than they receive in public services."
LCCI called for the government to "neutralise the increasingly negative public debate" over migration from the 27-member bloc. A third of migrants in the UK are from the EU, while the rest are from outside.
Some also warned that leaving the EU would lead to a trade war, with the UK facing punitive barriers such as costly tariffs.
Related Articles:
Ukip Polling at All-Time High as Farage Wins over Labour Supporters
Boris Johnson: Blame Lazy Workers not EU for Britain's Economic Woes
EU Referendum: London Businesses back UK Membership as Immigration Benefits Economy
Richard Ottaway MP: I'd Bet Money on UK Staying in EU Despite Referendum