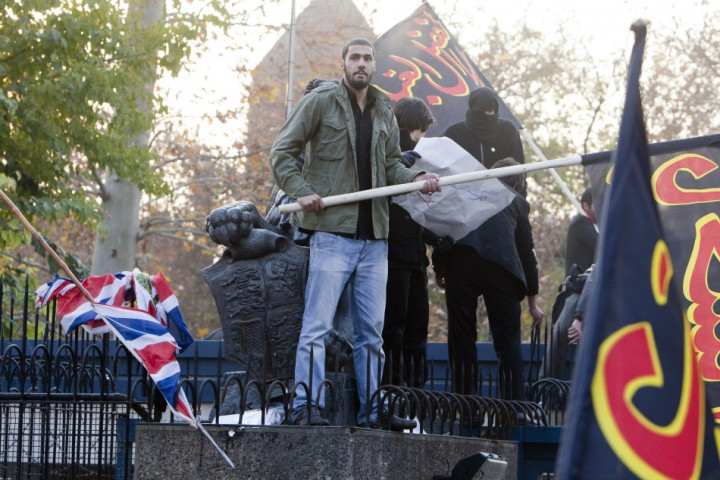 UK Foreign Secretary William Hague announced the immediate closure of the Iranian embassy in London Wednesday and said staff had 48 hours in which to leave the country.
"If any country makes it impossible for us to operate on their soil they cannot expect to have a functioning embassy here," he said in a statement to MPS.
Hague also accused the Iranian regime of giving "some degree of consent" to Tuesday's protests, when demonstrators stormed the British embassy in Tehran and burned the Union Jack and looted diplomatic documents.
Sanctions protesters Storm British Embassy in Iran
"It is true that relations between Britain and Iran are difficult," he added. "But we should be absolutely clear that no difficulty in relations can ever excuse in any way or under any circumstances the failure to protect diplomatic staff and diplomatic premises."
Tehran has apologised for the attacks on the UK embassy compound. All British embassy staff have been recalled from the Iranian capital.
Germany also said Wednesday it would be temporarily recalling its ambassador to Tehran over the incident.
Britain last week announced it would impose stricter financial sanctions on the Iranian regime as a response to its perceived potential nuclear weapons capability as outlined in a recent report by the International Atomic Energy Agency (IAEA).
Iran insists that its nuclear enrichment facilities are for peaceful purposes only, and has accused Britain, the United States and Israel of colluding against Tehran to legitimise a military strike on the Islamic republic.
Iran's parliament voted this weekend to downgrade diplomatic relations with Britain as a result of the sanctions.
Relations between the UK and Iran have been fraught since the 1979 Iranian revolution.
The BBC reports that analysts have compared Tuesday's scenes in Tehran to the 1979 storming of the U.S. embassy there. That ended with more than 50 US diplomats and staff being held hostage for more than 400 days.
U.S. interests in Iran have since been represented by the Swiss embassy in Tehran.