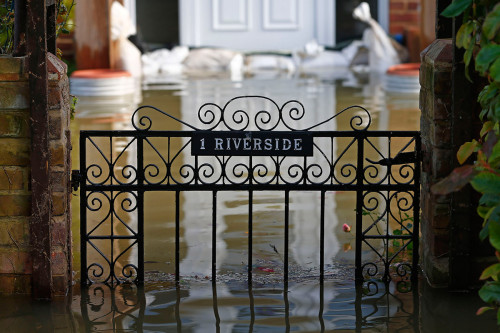 Evacuated residents fear an army of looters could target their flooded homes after rising waters drove them out.
The Berkshire village of Wraysbury, which lies between the River Thames and a number of lakes, has been swamped with the worst flooding since residents were told to leave the village in 2003.
Opportunist looters have reportedly been raiding homes, prompting residents to call for the police and army to intervene.
Colin Rayner, a Conservative councillor for Horton and Wraysbury, said the village had experienced looting and urged the police and army to help.
Rayner said troops were needed to help stop looting and sightseeing. Thrill-hungry motorists and looters looking for an easy mark were driving through flooded streets were adding to the damage by creating powerful wakes of water that caused more flooding.
"Looters nearly ran over a resident this morning," he claimed
A tearful Raynor said: "I had to tell 500 shocked residents that their houses could be flooded in the next 24 hours.
"We had children crying, and people looking shocked. I was quite upset, because I've never done that before.
"We were told that we were going to get help, but have we seen the police here today? Have we seen the Environment Agency today? Have we seen the army?"
The devastation forced scores of residents to leave their homes, including one homeowner who used a kayak to flee to safety.
The extent of the flooding has become so severe that amphibious buses have been called into action to help rescue stranded residents.
The village is just one of the prosperous commuter towns along the Thames at risk from rising floodwaters that show no signs of abating.
Meanwhile, the Environment Agency's southwest office has reported that a temporary flood barrier in Bridgwater, Somerset has been vandalised.
The agency has issued 14 severe flood warnings along the length of the river through Berkshire and Surrey as river levels remain high and are predicted to rise further.
The threat grew as the Met Office issued a yellow warning across the south of England for Tuesday, Wednesday and Thursday.