Syria Crisis: John Kerry Summons Spirit of Thatcher to Mend Special Relationship [VIDEO]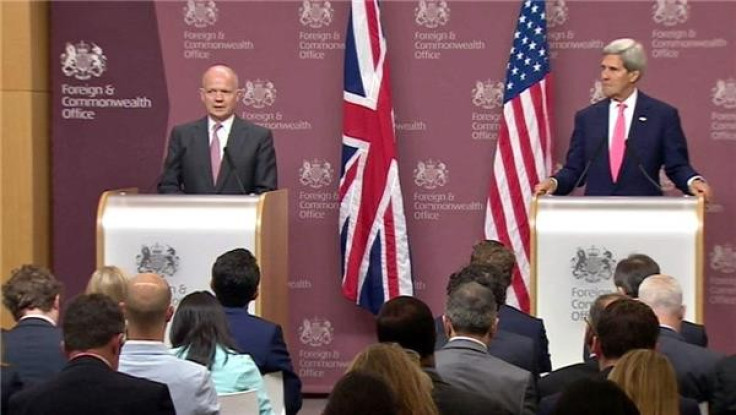 US secretary of state John Kerry has quoted the late British prime minister Margaret Thatcher in stressing that the UK and America "are real and true friends" and the special relationship between the two countries remains "as relevant today as it has been in the past".
Following the negative vote on a military intervention in Syria at the House of Commons many British media suggested that the "special relationship" between the former colony and Great Britain was come to an end. But in a press conference with foreign secretary William Hague, Kerry said that the bond between the Washington and London "is bigger than one vote and one moment in history".
"The relationship between the US and the UK has often been described as special, as essential, and it's been described thus quite simply because it is," he said. "We have no better partner in that effort than GB". He added that the bond is a "paradigm for internal cooperation" and based on values and rules by which human beings "try to organize their society respecting rights and finding a balance in a complicated world".
Hague said that UK's objectives and efforts on solving Syria conflict "remain closely aligned with the US", and the aim is to support a Geneva 2 peace process and transitional government.
He stressed that the UK offered a total of £400m in humanitarian support. And it will be pushing at the UN for aid agencies to have unfettered access to Syria.
The US secretary of state has warned that if there was no armed intervention Syria would use its chemical weapons again
Kerry said that the Syrian crisis requires a political solution. "There is no military solution. But a resolution to this can only come about if all parties are prepared to come together to negotiate.
"If one party believes he can rub out one group of people with weapons which have been banned for years he will never come to negotiate"
Their meeting comes as the US tries to gather support for military strikes.
READ:
Syria: Why Cameron Should Kill Off UK-US 'Special Relationship' [VIDEO]
© Copyright IBTimes 2023. All rights reserved.