The UK's GDP growth for the third quarter of the year has been confirmed at 0.7%, but trade and industry both performed poorly.
New ONS data show that business investment fell by 0.7% over the quarter, down from 3.3% growth in quarter two, while Britain's trade deficit widened from £8.9bn in quarter to £11.2bn last time out.
So while the government has welcomed the headline figures, the underlying story of poor exports and falling business investment (which implies a fall in confidence) suggest that the recovery may not be as robust as it would have hoped.
"The most concerning aspect of these figures is the widening trade deficit, as exports fell and imports rose. Our exporters are facing serious challenges abroad, so now is the time to invest even more in supporting and promoting international trade, particularly outside the eurozone. We expect the Chancellor to address the UK's trade deficit in next week's Autumn Statement," said David Kern, chief economist at the British Chambers of Commerce (BCC).
The chart below shows that net trade is having a big drag on the UK economy. The problems in the eurozone, which is the UK's biggest trading partner, are forecast to continue and so trade may continue to suffer, despite a relatively weak pound (which makes exports cheaper to overseas buyers.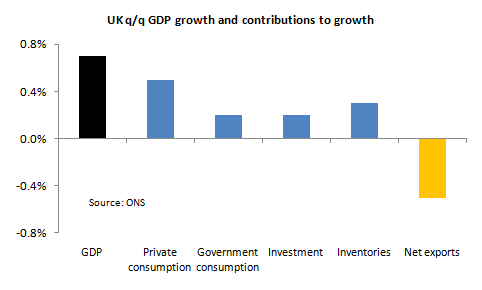 The Treasury has welcomed the data, saying that they prove the "government's long-term economic plan is working."
A statement said: "But the UK is not immune to weakness in the euro area and instability in global markets, so we face a critical moment for our economy. We need to carry on working through our economic plan that is securing a resilient economy and a better future."
Two positives to be gleaned from the data can be seen in rising service sector output and consumer spend. The latter, combined with the poor export performance, show that the recovery continues to be propelled by domestic demand.
"The second estimate of Q3 GDP indicates that the end of the squeeze on real pay is helping consumers to drive the overall recovery. Thanks to the easing of the real pay squeeze and strong employment growth, quarterly growth in overall household spending rose from 0.6% in Q2 to 0.8% in Q3, the strongest since Q2 2010," said Paul Hollingsworth of Capital Economics.