There is a revolution coming. But it will not be bloody. It will not be frenzied. And people will not march en masse in the streets.
This is a different revolution, a paradigm shift for the elderly and their employers.
That is because the architect of that change wants us to embrace a whole new phase of life – working beyond 65.
Dr Ros Altmann, the former director general of Saga, is best known for her work in the pensions industry.
She has campaigned on behalf of the 1,500,000 Equitable Life policy holders, who lost their retirement nest eggs thanks to lax regulations.
Altmann had also called for annuity reforms long before the Chancellor George Osborne liberalised the system in his 2014 Budget.
Now Altmann has got a new hat on: she has been appointed the government's so called "business champion for older workers".
The new role comes as there are around 2.9 million people aged between 50 and state pension age out of work in the UK, according to the Department for Work and Pensions.
While the country's employment rate for this age group is around 60% and growing, many other countries achieve rates of around 70% or higher.
The government have therefore conclude that there is "clearly significant potential for more older people to participate in the labour market for longer".
Hence Altmann's new position. The consumer champion will turn her talents to convincing older people to stay in the labour market and winning employers over to her "whole new phase of life" vision.
But what suggestions has Altmann got lined up for the government, will she be calling for more flexibility in the workplace?
"Definitely," Altmann told IBTimes UK. "But I think this is not [just an issue] for the government [to consider]. This is an issue for business, this is an issue for individuals and it's an issue for policy."
However, Altmann acknowledged that policy is not enough on its own.
She wants to engage with businesses and understand what barriers there are for older people to be active in the labour market in the UK.
"We've got a home-grown economic boost waiting if we want it," Altmann argued.
But how? She said there could be more emphasis in job centres and in employment policy on opportunities like apprenticeships. For Altmann, that would make a "big difference".
The tsar for over 50s also emphasised the importance of re-training.
"Even younger workers' skills become out of date these days quite quickly given the way technology is moving," Altmann said.
"But certainly for older workers, people who have never had a chance to learn some of the things the younger generation learn and that the workforce is embracing, the need for re-training is clear."
One of the measures that the government introduced to boost the number of over 50s in the workplace was the extension of the right to request flexible working hours to every employee in the UK.
The legislation came into force in June and the Department for Business said at the time that 20 million workers would be able to ask their employers if they could work flexibly.
The request must be dealt with within three months of it being submitted, but employers are free not to accept an application.
Altmann said the move will "take time to filter through" into the labour market.
But she said that the legislation complements her goal of making access to work for the over 50s.
Another "big one" for Altmann was the government's decision to scrap the default retirement age, which was phased out between April and October 2011.
Campaigners, who had long objected to older employees being pushed out of work, welcomed the move.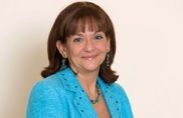 "That's the big policy enabler, the real game changer," Altmann said.
"You just can't sack someone because they've reached age 65 anymore, which should've happened years ago. At least that has now happened."
But Altmann warned, that despite the government's efforts to enable older people to stay in and re-join the labour market, ageism persists. How, though, does she intend to fight it?
"There are carrots and sticks," Altmann said. "My own view is that carrots often work better than sticks. One of the big barriers is probably misperception.
"That means we need to spend time explaining and highlighting the benefits of this.
"We're not talking [about] forcing people to work - work until you drop - or any of those negative connotations that have been associated with this kind of debate.
"What we're talking about is a richer, later life. A better later life.
"An improvement in your well-being - both financial, physical and mental - if you want to keep working."
Altmann argued that the UK has "an opportunity to invent and embrace a whole new phase of life".
"In the past it just couldn't happen because people at 65 were genuinely old," she said.
"Maybe they were physically weak, maybe they were very tired, maybe they were simply not able to do the kind of things that today's 65 year olds clearly can and are [doing].
"The idea of the retirement dream was to suddenly stop work altogether and do whatever you like.
"For many people that dream becomes a bit of a nightmare."
Instead, Altmann intends to push for a "better retirement dream", where older people are not working full-time but they are still in the labour market.
"You're phasing out," Altmann explained. "You're getting used to the idea of filling your days and your time. But you're still earning money, you're still going to work and you're having the social interaction of work."
Time will tell if employers, individuals and the government will adopt Atlamann's dream or consider it a nightmare.