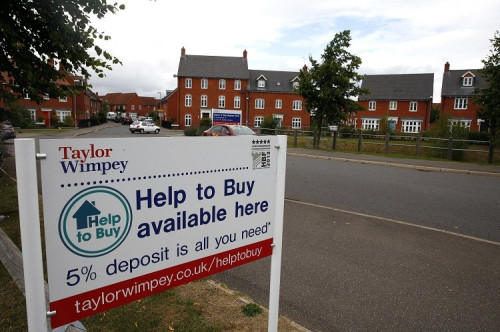 Lending to first-time home buyers rocketed 37% over the year in December as the UK's housing market recovery steps up a gear, according to the Council of Mortgage Lenders.
As a result of rising demand and a constrained supply, house prices are soaring. Nationwide Building Society said house prices rose 8.4% across 2013, with December clocking the biggest single monthly increase in over four years at 1.4%.
Bank of England data shows the gross value of mortgage lending in the same month up 49% on the year before, at £16.8bn.
"First-time buyers were an especially important factor in driving the market forward in 2013 as improved economic conditions, as well as the introduction of government schemes like Help to Buy, have given the opportunity for them to enter the market and become home-owners," said Paul Smee, CML director general.
"The consistent upward lending trend seen throughout 2013 would suggest relative optimism going forward.
"But there are challenges ahead, not least in implementing the Mortgage Market Review regulation in April and in ensuring that there is no suggestion of a property bubble; and all this will be key to determining how the market will perform in 2014."
The Mortgage Market Review contains a stricter set of lending guidelines for banks, imposed by the UK's financial sector watchdog, which will come into force on 26 April.
Part of the rules shift will mean lenders are directly responsible for ensuring borrowers can afford loans, rather than any intermediaries carrying out credit and background checks.
The new rules may help to keep a lid on lending amid concern that there is a housing bubble emerging in the UK.
Critics of mortgage market stimulus, particularly Help to Buy, say demand is being fuelled with cheap credit at a time when earnings are in real terms decline, interest rates are abnormally low, and there is a severely constrained supply of new homes.
However the Institute for Fiscal Studies (IFS), an influential thinktank, dismissed fears of a housing bubble in a comprehensive study of the UK economy.
"There is concern among commentators as to whether a housing 'bubble' is developing in the UK," said the IFS in its Green Budget 2014 report.
"A bubble – as opposed to simply an upturn in prices – arises when price trajectories are driven largely by speculative buying based on expected future price increases, rather than by economic 'fundamentals' such as improving underlying economic conditions and easier access to finance.
"On balance, the data currently available do not provide clear evidence of a housing bubble, even in London – though the likelihood of a bubble is greatest there."
The IFS says UK house prices are 9% below their pre-crisis peak in nominal terms and 25% below in real terms, meaning there is a lot of slack in the housing market.
It also points to data from Nationwide Building Society showing the house price to earnings ratio, a useful indicator of a housing bubble, is still following its long-term trend and there is no sudden upturn.
Moreover, mortgage costs are not eating up as much household disposable income as they have historically. Since 1974, the average proportion of UK households spending more than a quarter of their disposable income on repaying the interest on mortgages was 8.5%. In 2011, it was just 5.4%.
House building is also picking up. The volume of new homes registered with the National House Building Council (NHBC) hit 133,670, up 28% on the year before and the most since 2007.