As more people get their hands on mortgages thanks to the Help to Buy scheme, house prices are steadily rising because there's a bigger number of people jostling in the market to buy a home - but is it a bubble?
Even as Help to Buy frees up mortgage credit for consumers, the number of property transactions in the UK is still well below where it was before the financial crisis.
Take a look at this data from HMRC on the total number of property transactions over £40,000: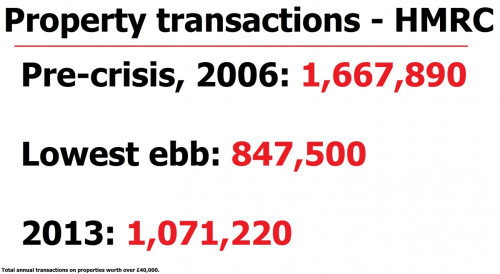 And what's more, house prices aren't rising at the same pace everywhere. There's a sharp difference between the regions.
For example, London prices are accelerating much more quickly than those in the North West – as this data from the Office for National Statistics (ONS) shows: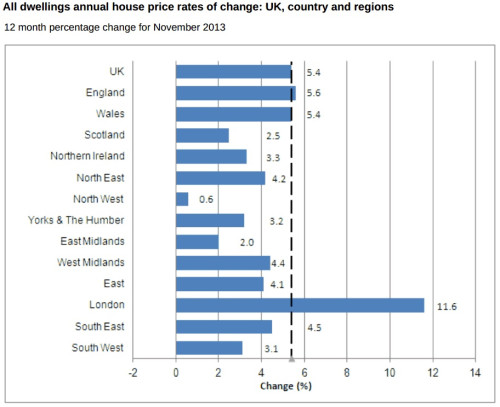 And not all regions have seen prices return to their pre-recession peaks, suggesting there's slack in some parts of the country to cope with spiralling demand: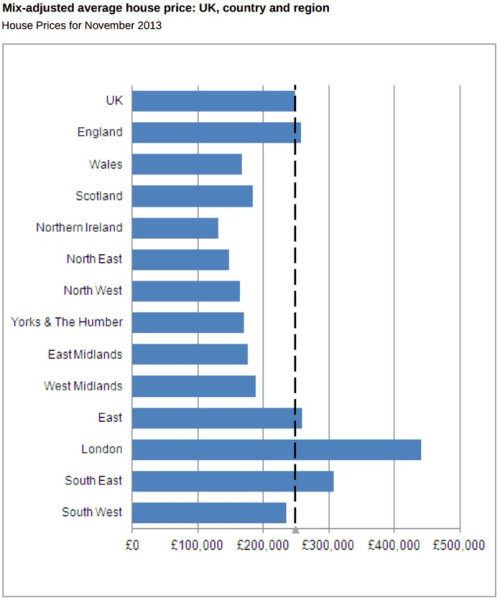 What's driving up prices?
Well demand is being fuelled by mortgage-easing stimulus such as Help to Buy, which supported £1bn of applications in its first three months alone.
But on top of this there's an existing housing supply shortage in the country.
It can be traced back to Margaret Thatcher's Right to Buy scheme in the early 1980s which sold off much of the social housing stock without replacing it.
The problem worsened during the Great Recession because the construction sector collapsed and housebuilding ground to a halt. Add to that the growing population and housing supply is put under even more pressure.
Take a look at these official figures.
The first is from the local government ministry and is for the number of new homes started by builders. The second is from the National Housing and Planning Advice Unit, a non-departmental public body, which is their estimate for the number of new homes needed annually until 2031:

To make matters worse, house prices are running away from earnings, which have been in real terms decline as pay rises more slowly than price inflation.
Generally speaking lenders will offer mortgages of four, or at a stretch five, times earnings. So it's bad news that house prices are rising faster than wages – which are going up at an average annual rate of 0.8% – because it will shut even more people on lower incomes out of the property market.
Here's data on earnings and house prices from the ONS and Land Registry: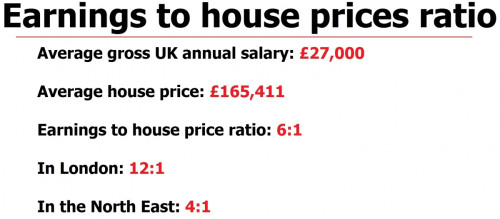 And there we have the two central problems in the UK's housing market – poor income growth and an extremely weak supply.
Does this mean there's a bubble? Well that's open to debate. Some argue the fundamentals are strong and the slack in the market can cope with the likes of Help to Buy.
On the other hand, people point to the widening gulf between earnings and house prices. They argue that when the Help to Buy scheme ends in 2018 it may cause a sudden sharp drop in demand which will knock house prices back again.
And that high house prices means bigger mortgages, all at a time when interest rates are being held down by the Bank of England.
When the Bank decides to hike its key rate, and mortgage rates rise with it, there is concern that it may trigger defaults because highly-leveraged homeowners can no longer afford the costs of servicing their home loan.
What everyone agrees on is that the UK needs more homes.
Labour promises it would build 200,000 new homes a year if elected in 2015, while the government points to rising residential building activity in the construction sector.
Yet there's liitle sign that either of them, or the construction sector, will create enough housing supply to meet the growing UK population's insatiable demand for property.