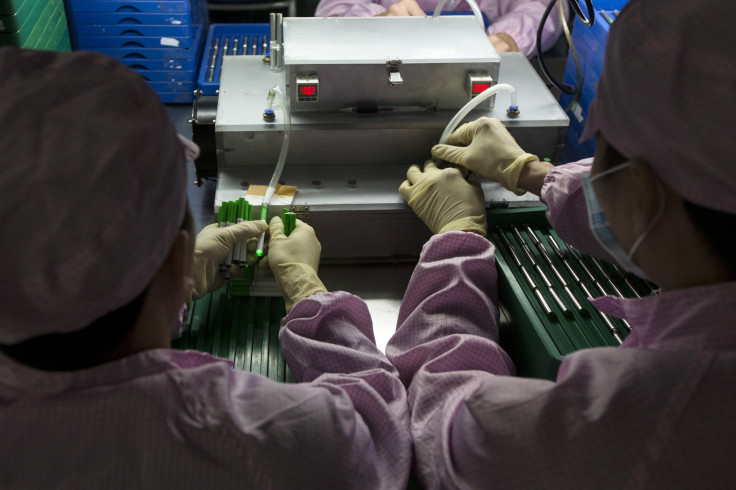 UK manufacturing continues to struggle with weak overseas demand and a strong pound.
The latest reading of the UK's production output shows that manufacturing fell by 0.7% in October, leading to a cross-sector fall in output of 0.1%. Analysts had predicted a rise of 0.2%. The 0.7% drop in manufacturing has cannibalised September's increase of 0.6%.
Over the past three months, production growth has been a negligible 0.4%, with manufacturing a slightly better 0.5%.
Nine of 14 manufacturing sub-sectors shrunk over the month but the worst performing was electronics, which had a net drag of 0.2% on the country's total production.
The data doesn't look so bad when extrapolated out across the year: October's performance was 1.7% higher than the corresponding month in 2013.
Chris Williamson, the chief economist at Markit, a research company, said the "manufacturing weakness is a reminder that we can't be complacent about robust economic growth".
But other analysts have been slightly more positive and are predicting a reinvigoration of the sector's recovery in the coming quarters.
"The fall in oil prices from around $115 per barrel in June to around $65 at present should provide a timely fillip to growth," wrote Paul Hollingsworth of Capital Economics in a note.
"With consumer and business confidence remaining strong, a recovery in real wages finally underway and survey measures of firms' investment intentions at historically-high levels, domestic demand should be strong enough to ensure that the sector's recovery doesn't go into reverse, despite mounting external obstacles," he added.
The Labour donor, businessman and economist John Mills warned that the figures prove the economic recovery is not as safe as the government claims.
He said: "These figures show the economic recovery is not as safe as some people believe. A sustainable recovery is possible only if British manufacturing can get a firm foothold, making it possible for the UK to pay its way in the world. Although now making up barely 10% of the UK economy, manufacturing is an important contributor to national productivity and, as a result, employee pay growth.
"Unfortunately, the level of the pound has made life difficult for British manufacturers. It has priced the vast majority of our products out of the international markets, hollowed out our manufacturing base and destroyed jobs. The government should now commit to a review of the impact of the effect on the exchange rate on UK industry."