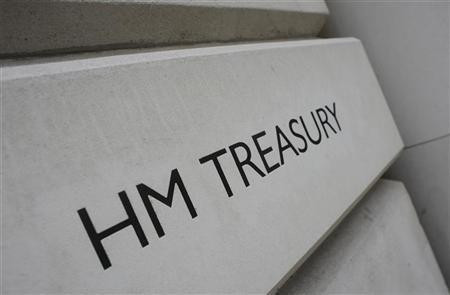 Britain's debt pile is growing and its budget deficit widening, according to worse than expected data from the Office for National Statistics, further complication Chancellor George Osborne's fiscal strategy to heal the depressed economy.
The debt pile grew by £15.4bn in December, more than many forecasters had expected and a £600m increase on the same month in 2011.
Public debt as a portion of UK GDP has soared to 70.7 percent, hitting a record total of £1.1tn, excluding the temporary effects of financial interventions.
The budget deficit grew by £500m on the same month the year before in December, said the ONS, to £13bn.
"By squeezing families and businesses too hard, choking off the recovery and so pushing borrowing up not down, the government's economic policies have badly backfired," said Rachel Reeves MP, Labour's Shadow Chief Secretary to the Treasury.
"But David Cameron and George Osborne have decided that millions of working families will pay the price with further cuts to tax credits and benefits while millionaires get a tax cut.
"We urgently need a change of course from this Government to create the jobs and growth that are vital to get the deficit down. Clinging on to this failing plan will cause long-term damage to our economy and mean more borrowing and more debt to pay for economic failure."
However, the Treasury said the ONS data reinforces the chancellor's position.
"These figures underline what the chancellor said at the Autumn Statement: it's taking time, but the economy is healing," a Treasury spokeswoman said.
"The deficit has come down by a quarter since 2010 and more than a million private sector jobs have been created."
Recession and a stagnant economy has heaped billions onto the government's debt pile as it is forced to offset dwindling tax receipts by borrowing more.
This led to Osborne admitting he will miss his key fiscal target of bringing debt down as a portion of GDP by 2015, though only by a year.
An ever-worsening outlook for the UK economy, with the threat of an unprecedented triple-dip recession hanging in the background, could create further debt problems for the chancellor as he desperately seeks a route to economic recovery that does not divert from public sector austerity.
Despite this, gilt yields have hit record-lows as the Bank of England's quantitative easing programme, called the Asset Purchase Facility, bought up £375bn of UK sovereign debt in order to improve market liquidity.
A raft of worse-than-expected data in the final quarter of 2012 suggests the economy is weaker than many economists had thought.
Most forecast a contraction in the three months to December of -0.1 percent, before a return to marginal growth in the first quarter.
However, in December the UK's powerhouse service sector, which accounts for around three quarters of GDP, slumped into recession, according to private industry data.
Think tank the NIESR is predicting a -0.3 percent slump in the fourth quarter.
---
Follow @shanecroucher