Britain's recovering economy has now soared past its pre-recession peak.
The Office for National Statistics (ONS) said UK GDP grew by 0.8% in the second quarter of 2014, the same pace as the previous three months.
This has taken GDP 0.2% higher than where it was in the first quarter of 2008, its peak before the financial crisis tore through and plunged the economy into recession. From peak to trough in 2009, the economy shrank by 7.2%.
Growth was driven by higher output in the powerhouse service sector - which accounts for around three quarters of the economy - and production, which includes manufacturing. Construction and agriculture saw slight declines in output.
"We owe it to hardworking taxpayers not to repeat the mistakes of the past &instead work through the plan that's delivering economic security," said UK Chancellor George Osborne, referring to his tough austerity programme of public spending cuts.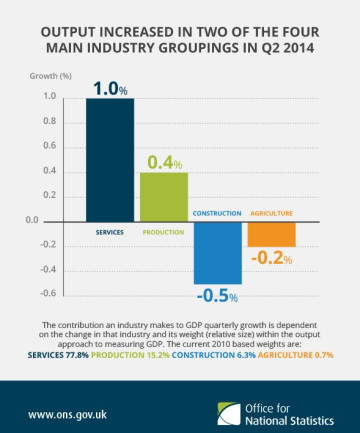 But there are still concerns about the economy. Wages, excluding bonuses, are growing at an average rate of 0.7%. This is well below price inflation 1.9%, meaning pay is in real terms decline.
And UK exports have been flat as financial crisis and economic slowdown hits key markets, such as the eurozone and China.
These concerns are at the fore of Bank of England policymakers' minds as they consider when to hike interest rates.
The base rate is currently at an all-time-low of 0.5%, where it has sat since 2009 to keep credit cheap and support the economy while it was ailing.
Until wages begin to rise materially, the Bank of England is unlikely to lift rates for fear that it will choke off the economic recovery by denting household incomes and so consumer spending.