UK Self-Employment Growth Since Financial Crisis Masks Employees Fall
The number of self-employed people in Britain has shot up by 367,000 since the financial crisis, according to official figures, becoming the fastest growing sector in the labour market and masking a fall in the number of employees, as many were forced to make their own way because of the global downturn.
In recent months, the Office for National Statistics (ONS) labour market data has appeared to show resilience in the jobs sector considering the domestic and global economic malaise, with employment hitting levels seen before the financial crisis and unemployment holding at a relatively low rate.
However, the latest ONS release shows that as self-employment soared, the number of employees dwindled by 434,000 in the same period. Employees working for a self-employed person also dropped during this time, down by 66,000.
"Self-employment is normally a very small part of the workforce so the fact that it's been outstripping employee job growth shows that the UK labour market is far weaker than headlines suggest," said Frances O'Grady, general secretary of the Trades Union congress.
"There may be perfectly good reasons for being self-employed but it would be naive to think that all these workers are really budding entrepreneurs.
"These figures instead suggest that many employee roles are being replaced by self-employed positions. Bogus self-employment is bad news for staff as they miss out on vital rights at work, such as paid holidays and employer pension contributions, without having the advantage of being their own boss."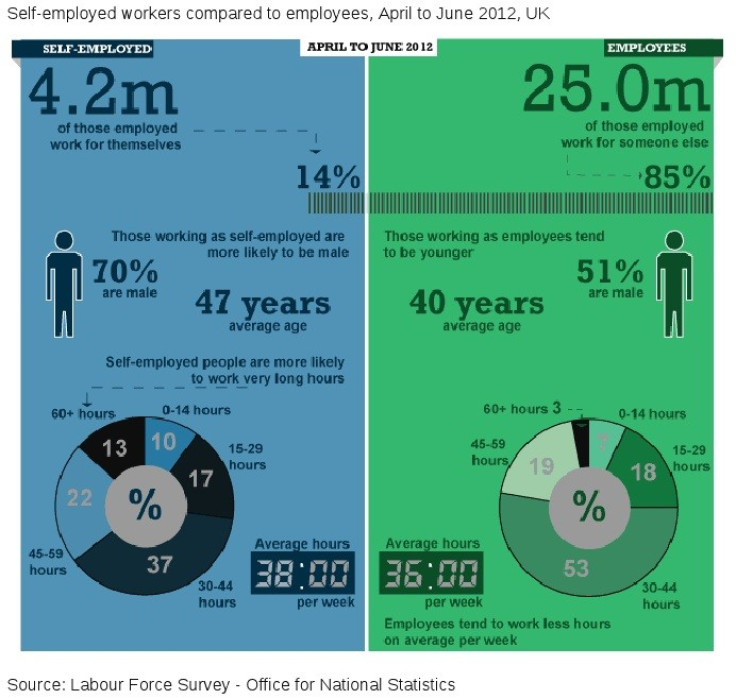 Self-employed people worked longer hours than employees, tended to be older than employees and were more likely to be male, reported the ONS, and now account for 4.2m - 14 percent - of all people in work.
Sixty percent of the increase in self-employment has happened since 2011.
Of those labelled as self-employed, 84 percent are aged over 50. The average age is 47.
Most common occupations were taxi drivers, "other" construction trades, carpenters and joiners, and farmers. Males accounted for 70 percent of self-employment.
Thirteen percent of the self-employed work a staggering 60 or more hours in a week to make their living.
This all is in contrast with the 25m employees, of which 51 percent are male, the average age is 40, and only 3 percent work 60 or more hours in a week.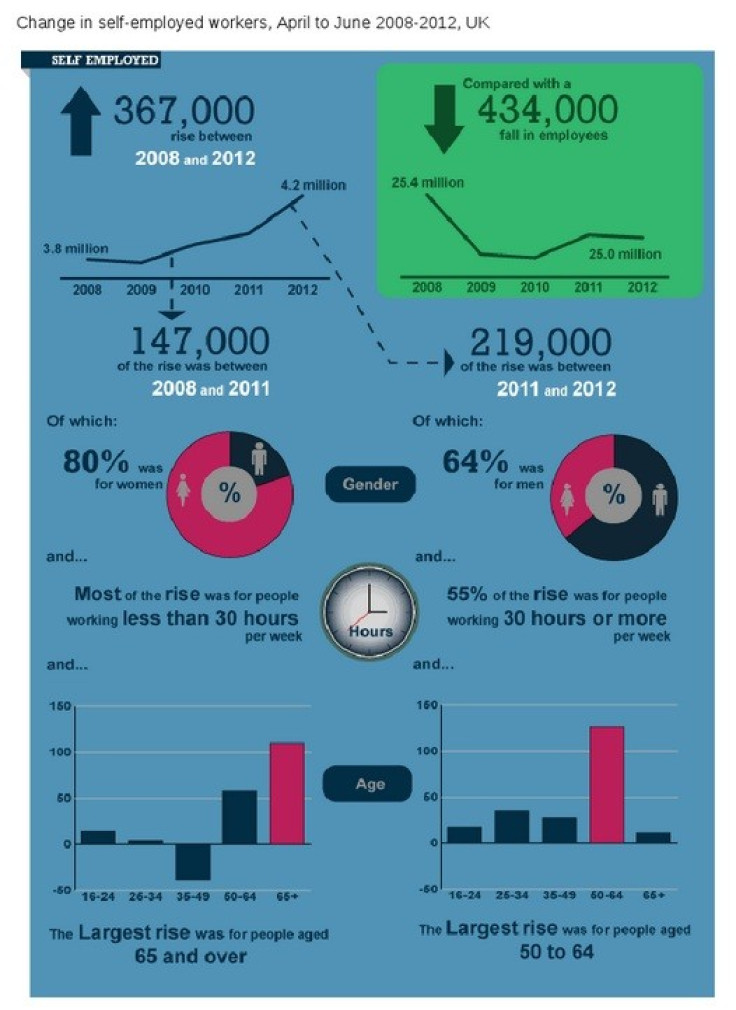 © Copyright IBTimes 2023. All rights reserved.