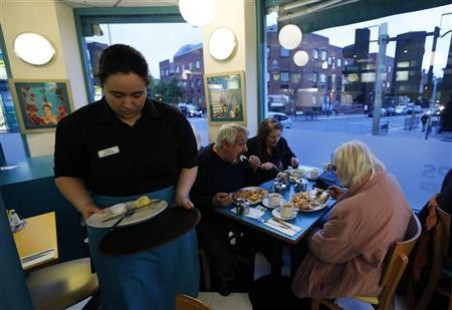 January Service Sector PMI Reading
51.5, up from December's 48.9 reading.
Key points

Stronger demand drives activity and new business up despite poor weather.
Best gain in employment for six months.
Impact of snow limited.
Business confidence improved to highest since May 2012.
Input price inflation hits nine month high.
Comment
Chris Williamson, Chief Economist at survey compilers Markit, said:
"A huge sigh of relief accompanies these numbers, as a return to growth of the service sector in January greatly reduces the likelihood of the UK falling back into a 'triple-dip' recession.
"Companies reported the strongest rise in services activity for four months, building on the promising news from manufacturers last week, where output was reported to have grown at the fastest rate for 16 months in January. Although construction remains a worry and continues to contract, the PMIs collectively point to the UK growing marginally again in January.
"Stronger growth would inevitably have been recorded had the country not suffered the heavy snowfall, suggesting the underlying trend is even stronger than these numbers indicate.
"With services companies' confidence also picking up, new business rising for the first time in three months and hiring growing at the fastest rate for six months, the sector looks to be on a renewed upswing which should help the economy grow again in the first quarter."
Context
Considering the UK's service sector accounts for around three quarters of the economy, this is a very significant number in the context of a looming triple-dip recession.
Assuming no downside shocks for the struggling UK economy, the return of growth to the service sector after flat-lining in the fourth quarter should be enough to just about keep GDP's head above water and avoid a third dunk.
Chancellor George Osborne will certainly welcome this data as he jostles to stay on his throne in the Treasury despite his much-criticised handling of the moribund economy.
Read the Markit report in full.
---
Purchasing managers index (PMI) surveys are carried out by Markit Economics and the Chartered Institute for Purchase & Supply (CIPS).
Each month purchasing managers across private UK firms are surveyed to give an indication of business activity in the service, manufacturing and construction sectors.
On the index, neutral output activity is 50.
Any reading above represents expansion, while under signifies contraction.
---
Follow @shanecroucher