Foxtons shares have plunged 44% since the day it started trading last year as investors fear that the new stamp duty rules will disproportionately hit the London-focused estate agent.
The Foxtons stock price fell by over 6% to 145.40p in the immediate aftermath of George Osborne's Autumn Statement, in which the UK Chancellor revealed that Whitehall will help "98% of homebuyers" by abolishing the stamp duty "slab system" [Figure 1].
While the reforms will benefit the majority of home buyers, those involved in high-end transactions, buying homes at £1m and upward, will incur more tax - Foxtons derives a majority of its revenue from such high end London-based properties.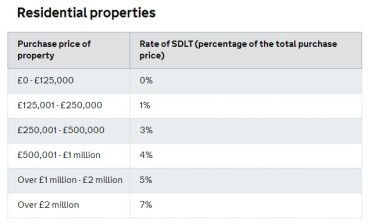 Stamp duty works on a "slab" basis, by which the percentage paid applies to purchase price band. This can have a distorting effect on the housing market, because a house is very difficult to sell at prices just above each threshold, for example, £250,001.
Under the new system, no tax will be paid on the first £125,000 of the property purchase price, while 2% will be paid on the portion up to £250,000, 5% up to £925,000, 10% up to £1.5m and 12% on everything above that.
The average UK house price in September 2014 stands at £273,000 (€342,025, $427,614) compared with £274,000 in August.
The regional breakdown showed that the average property price in England stood at £285,000, £172,000 in Wales, £143,000 in Northern Ireland and £197,000 in Scotland.