July UK trade deficit quadruples to highest point in 2015 as manufacturing output slips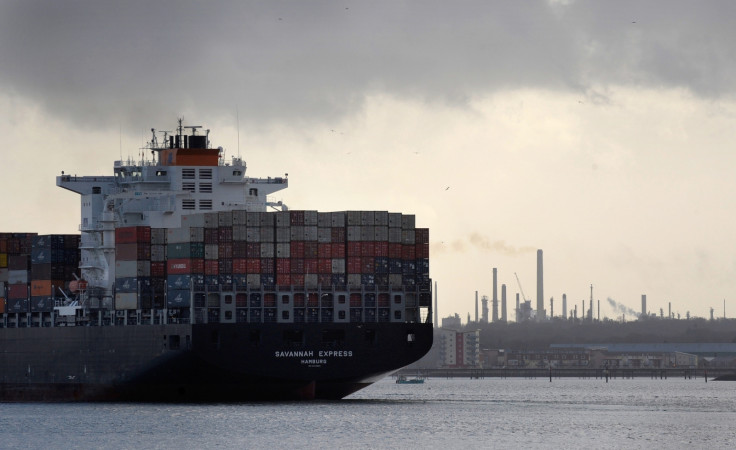 The UK imported £3.4bn more than it exported in July 2015, a deficit more than four times as wide as it was in June. The overall deficit was down £900m compared with the same month 2014.
The widening deficit was partially due to goods exports going down to £22.8bn, its lowest amount since September 2010, causing the goods deficit to widen by 30.6% to £11.1bn in July. A £1bn decrease in export of semi-manufactures, specifically chemicals, contributed to the widening trade deficit.
In bad news for Chancellor George Osborne, the July trade deficit was the highest recorded in 2015, despite a slight widening of the services trade surplus. Meanwhile, the US exported £23bn more in services than it imported.
Joe Grice, chief economist at the ONS, commented: "Today's trade figures show a marked decline in goods exports in July, driven by a fall in exports of chemicals and manufactured goods ... As a result, the balance has a bigger deficit than in recent months, but is still broadly in line with where it was earlier this year and last summer."
The decline in semi-manufactures and finished manufactures in the trade report by the ONS was mirrored by the figures from the Index of Production report, which also came out on Wednesday (9 September).
Manufacturing output was down 0.5% in July compared to June 2015, although the overall production output saw an increase of 0.8% , fuelled by a 6.7% jump in mining & quarrying output.
Motor vehicle production weighed down overall manufacturing, the ONS figures showed. However, the car industry received a boost when Nissan announced a £100m ($152m) investment in its Sunderland plant to build the Juke model. The Japanese car giant was forced to battle regulators because of feared breaches of competition rules with other carmakers from Japan, but came out victorious.
The plant in Sunderland will see 6,700 jobs secured because of the investment, while another estimated 27,000 jobs will be created in the supply chain.
Chief UK economist at analyst thinktank IHS Global Insight Howard Archer said that the figures published today were a results of falling foreign demand.
"A double whammy of bad news for the UK economy that do not bode at all well for GDP growth in the third quarter," he said. "We had expected GDP growth to moderate from 0.7% quarter-on-quarter in the second quarter but to 0.6% in the third quarter, but there is now a serious risk that growth could dip to 0.5% quarter-on-quarter or even lower."
"Muted manufacturing activity and weakened exports is worrying for hopes that UK growth can become more balanced and less dependent on the services sector and consumer spending."
© Copyright IBTimes 2023. All rights reserved.