UK votes: Collapse of Tata Steel and NHS fears among key concerns for Welsh assembly voters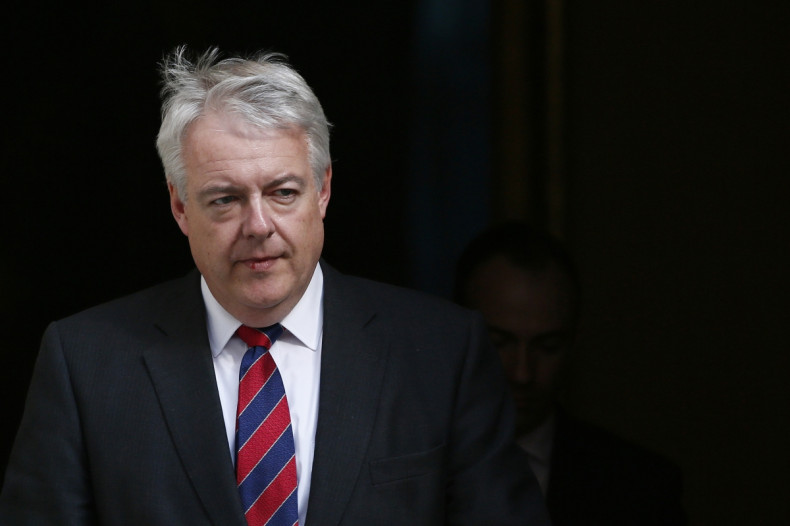 To the outsider, the tough time the Pembrokeshire audience was giving Carwyn Jones AM on the BBC radio show Any Questions back in January 2016 suggested voters in Wales might be tempted to follow those in Scotland and most of England and give Labour a kicking at the polls on 5 May.
Many voiced unhappiness over education, the NHS, the principality's ailing steel industry and the Welsh first minister had a torrid time defending his party's record in office that now stretches to 17 years.
But audience members in Pater Hall, Pembroke Dock may simply have been letting off the kind of steam they would like to see continue emerging from Port Talbot's Tata Steel factory, whose troubles have themselves been politically toxic for both the government in London and Cardiff.
Although Labour is predicted to lose some ground, red is still expected to be the dominant colour in the 60-member Welsh Assembly.
"One of the interesting things about Labour in Wales is that if you ask people directly about their policy record, people are not on the whole impressed, yet the party continues to lead in the polls," Roger Scully, politics professor at Cardiff University, told IBTimes UK.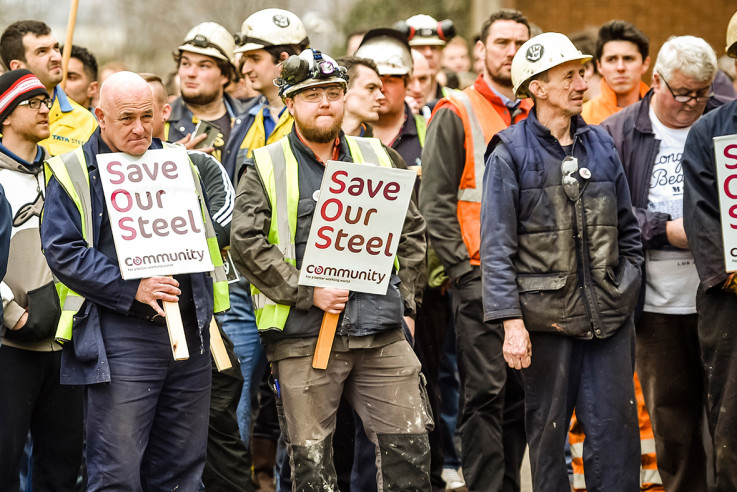 Workers gather at Tata Steel in Port Talbot, Wales
Ben Birchall/ AFP
History plays a helping hand. Of the last 37 Wales electoral contests, Labour has come first in 36 of them. But times are tougher, and resonating on both ends of the M4 is the feared collapse of Tata Steel at Port Talbot.
Business Secretary Sajid Javid admitted he should have gone to Mumbai for the Tata Steel meeting that decided the future of its operations in the UK, including Wales, which has an electorate that is also unhappy with how the Assembly handled the crisis.
Scully said: "The polling evidence suggested people are unimpressed by the way the Conservative Party has handled it. People were not wildly impressed with the Welsh government but they were a lot more impressed than with the UK one.
"People do not necessarily think the Welsh government is fantastic but they prefer it to the one in London," he said.
In the week when people go to the polls, there is the timely intervention of investors Liberty House that said it would submit a bid for Tata Steel's UK assets, and will try to keep the whole of Tata's UK business running, including the blast furnace site at Port Talbot.
'Referendum on the NHS'
Away from steel, Plaid Cymru leader Leanne Wood AM told the BBC that the election is a referendum on the future of the health service in Wales and health was as much a focus of the final leaders' debate in April, as it was in that hall in Pembrokeshire four months earlier.
In Cardiff's St David's Hall, Labour was under attack over increasing waiting times and problems with maternity services. Liberal Democrat Kirsty Williams called for a £10 million fund to ease access to GPs, while the Conservative leader Andrew RT Davies promised his party would protect NHS funding and not bring in a "wholesale reorganisation".
The Tories did manage to tap into unhappiness with the NHS at the 2015 General Election where the popular doctor James Michael Davies won the Vale of Clwyd by a mere 237 votes from the Labour MP Chris Ruane, who had held it for 18 years.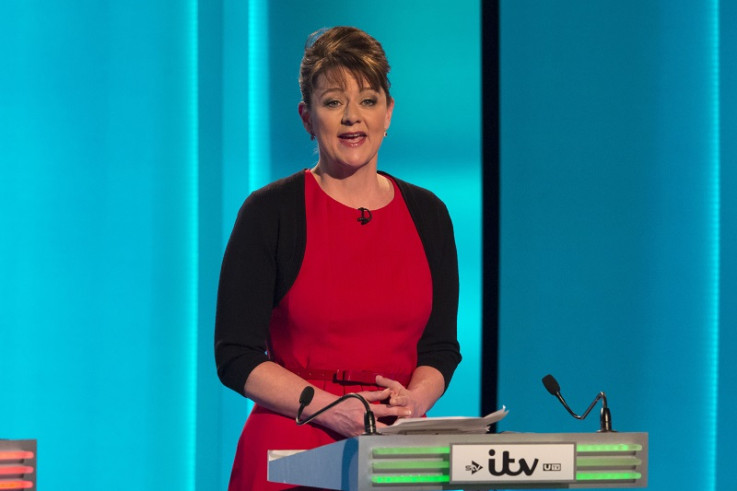 Plaid Cymru leader Leanne Wood says the election is a referendum on the NHS
Ken McKay/ITV via Getty Images
Professor Roger Scully said: "A few months before the General Election, Lord Ashcroft published a poll on attitudes to health. There was a consistent pattern that the greatest level of satisfaction was in Scotland, in the middle was England and then the lowest was in Wales.
"The Conservatives have been attempting to weaponise this problem with some degree of success," he said.
Education leaks £100m from Wales per year
On education, there is concern over funding of tertiary students, who often go to university in England. The view among many is this costly policy, means that £100m a year is leaking out of Wales per year with no appreciable benefits. A policy review by Professor Sir Ian Diamond is due out in September but already he has said it is unsustainable to provide grants of up £5,190 to students. Labour has not been specific on this, saying it would decide after the election, although it has pledged to create 100,000 apprenticeships.
Unlike in Scotland, independence is not an issue exercising voters. Nevertheless Plaid Cymru will be hoping that feelings of patriotism will lead people to more support with its leader Leanne Wood AM telling the BBC's Andrew Marr Show that the gap between her party and Labour was closing, and that the election will be "a two-horse race".
Another horse entering the race will be UKIP, which is likely to snap up to seven listed seats based on regional vote share. They won nothing in 2011, but came second in six Welsh seats in the 2015 General Election.
While the focus will be on June's EU referendum, UKIP in Wales will be spearheaded by the unlikely figure of Neil Hamilton, whose career as a Conservative MP ended in the cash-for-questions scandal of 1997.
But the biggest question come 5 May will be turnout and there are concerns that it could be even less than the all-time low of 2003 of 38.2%.
Scully said: "I would not be surprised if we are challenging that lowest figure."