The Ukip MEP who caused national controversy with his 'Bongo Bongo Land' comments caused his party another headache by losing his temper live on air.
Godfrey Bloom cut short the interview on Channel 4 News during questioning about the phrase 'bongo bongo land' which he used for countries that receive aid from Britain.
Bloom repeatedly denied he was a racist, insisting he could see nothing wrong with describing a foreign country as "Bongo Bongo Land".
He told viewers: "I didn't feel I'd done anything wrong. I'm 63 years old, that's the sort of phraseology we used years ago - no unpleasantness in it at all."
The MEP for Yorkshire and Humber, who has represented Ukip since 2004, was speaking after party leader Nigel Farage and chairman Steve Crowther ordered him to apologise for the remark, which they called disparaging.
But he appeared to show little contrition. "I think it's a generation thing. I'm an older man and I don't see it that way. But he [Farage] tells me it is, so it must be so," he said.
As host Krishnan Guru-Murthy persisted with questions, Bloom lost control and eventually tore off his microphone.
"Move on, there's nothing to talk about!" he shouted at Guru-Murthy. "If your'e not going to talk about serious issues then there's nothing to talk about."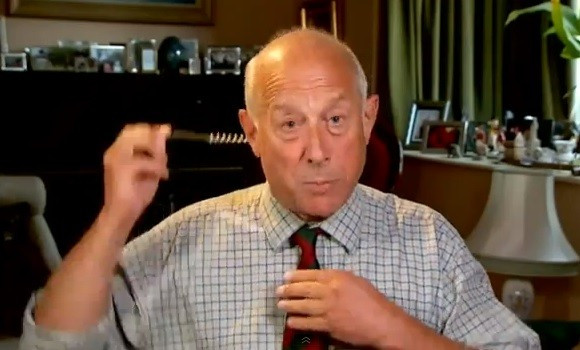 Bloom sparked uproar in some sections of the media with comments he made at a meeting of supporters in July. He was filmed saying that Britain sent billions of pounds in aid to 'Bongo Bongo Land and the recipients spent it on "Ray-Ban sunglasses, Ferraris and apartments in Paris".
Ukip chairman Steve Crowther censured Bloom - but claimed the phrase "bongo bongo" was not racist.
He told Sky News: "Godfrey used the wrong words and I've asked him not to use it again. A word is not racist in itself - it depends on how it's used and how it's applied.
"Godfrey certainly is not a racist and he is simply seeking to stimulate a debate on an incredibly important facet of our country.
"He's done it in an old-fashioned way. It is rather an out-of-date description of foreign parts. It's a shorthand way of describing places which are in receipt of foreign aid. It's not the right word to use and it could be disparaging.
"It's a sad fact that [through] his use of a word, we are having a much overdue discussion on the billion pounds a month we are spending. Many people find that very odd at a time when we are experiencing austerity."