Cameron Braced for Big Election Losses to Farage's Ukip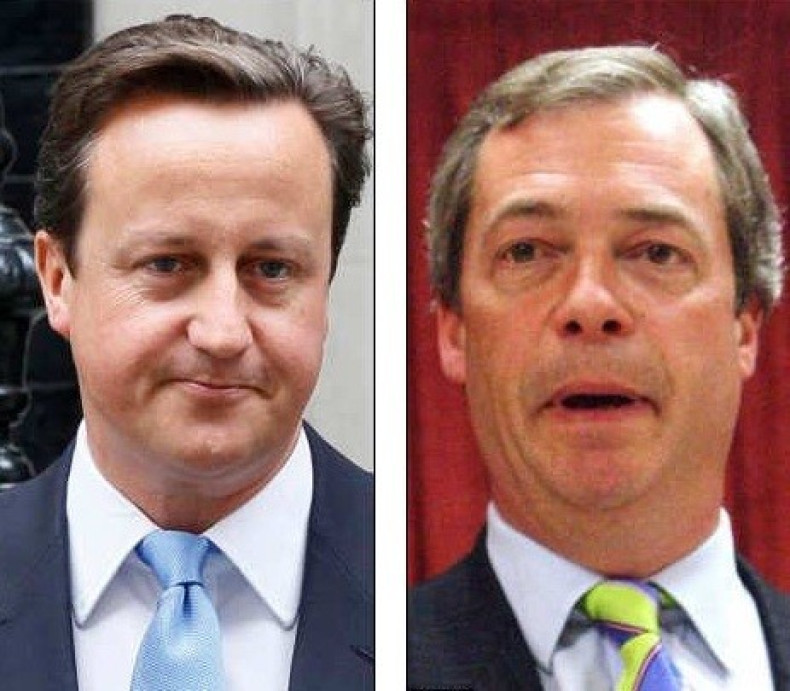 David Cameron faces the loss of hundreds of Tory seats as voters turn against the Conservatives in May's local council elections.
Nigel Farage's right-wing UK Independence Party (Ukip) has most to gain from the anticipated voter revolt in "true blue" Tory shires.
Analysts predict David Cameron's party will lose at least a third of the 1,477 English council seats it is defending.
One cabinet minister predicted losses could hit 600 seats for the Tories, adding: "We know we will get a kicking. We just don't know how hard it will be."
Compounding Cameron's problems, the gains made by the Tories at the local elections of 2009 could be wiped out, as those elections took place at a time when Gordon Brown's government was at its most unpopular.
Tory strategists say Cameron will pay an electoral price for antagonising core Conservative voters over issues such as same-sex marriage, immigration and the economy.
The Tories are vulnerable as never before to the challenge of Ukip, which will contest three-quarters of the total 2,362 council seats up for grabs on Thursday 2 May. In 2009 it fought a quarter of the seats.
In Essex, once a Thatcherite heartland, the proportion of seats to be contested by Ukip has surged from 16 percent four years ago to 100 percent next month.
Though Ukip are unlikely to win control of any councils, their support will help split the Tory vote and lose them several counties they hold.
Heavy losses will prompt speculation over Cameron's leadership, with party chiefs fearing a bloodbath in counties such as Essex, Kent, Gloucestershire, Northamptonshire, Lincolnshire, Suffolk and Norfolk.
One major battleground lies in the East Midlands, where Labour has strong hopes of winning control of Nottinghamshire and Derbyshire from the Tories.
"If David Cameron wakes up and finds out he has lost those two he can kiss goodbye to any chance of winning the next general election," a shadow cabinet source told the Daily Telegraph.
Labour could also win control of Cumbria and Lancashire, while the Tories face losing Staffordshire, Warwickshire, Leicestershire and Worcestershire to no overall winner.
Elections will take place in 27 English county councils, six unitary authorities in England and one Welsh council.
Labour sources say a modest gain of little more than 200 extra seats on top of the 255 it currently holds would represent a "good result".
Most pollsters predict the party will comfortably outperform that, with gains of 500 or even 600 predicted.
The Liberal Democrats hope to hold on to the 480 seats they currently hold and possibly make modest gains.
In Somerset, pollsters favour the Lib Dems' chances in what is predicted to be a fierce battle between the two coalition parties. Nick Clegg's party also had a chance of achieving the same result in Wiltshire, analysts said.
"When you're in government you're 'one of the above', not 'none of the above'," said Lib Dem president Tim Farron.
The Lib Dems have been emboldened by their success in holding on to Eastleigh in February's parliamentary by-election, despite Chris Huhne, the Lib Dem former energy secretary, being found guilty of perverting the course of justice before the vote.
"Ukip are making their biggest local election push ever. Although their support is too evenly spread to score many first places, Tory concern focuses on the risk that losing votes to Ukip could hand seats to Labour and the Liberal Democrats," said John Curtice, professor of politics at Strathclyde University.
"Despite David Cameron's offer in January of a Euro-referendum, Ukip support has continued to grow. Nearly every poll puts Ukip support above 10 percent - while three times as many 2010 Tory voters have defected to the party as have Labour or Liberal Democrat ones.
"Well ahead in the polls, Labour appear the bigger threat, not least because the party did appallingly badly when the seats were last up for grabs in 2009."