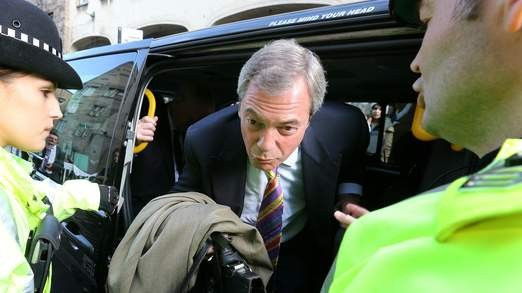 Ukip leader Nigel Farage has hung up on a BBC reporter after a tense interview about his disastrous appearance in Edinburgh last night.
Farage said he was disgusted by the "hatred" he was getting from the BBC Scotland interviewer, before concluding "I've had enough of this interview. Goodbye."
The former MEP was discussing his visit to Edinburgh's Royal Mile, which was disrupted by a mob of left-wing activists who screamed "scum" and "racist" at him.
Farage was hounded by the 50-strong mob throughout his visit, and was eventually forced to flee in a police riot van.
This morning he told BBC Scotland he "had never seen the like of it before", before describing the protesters as "deeply racist" and claiming some parts of Scottish nationalism were "akin to fascism."
"If this is the face of Scottish nationalism, it is a pretty ugly face" he said.
The interviewer said it was "deeply objectionable" for Farage to conflate the issue of anti-English racism with the campaign of Scottish independence, adding:
"You are confusing two quite separate things - anti-English prejudice, which we may or may not have seen on the Royal Mile last night, and the campaign for a yes vote in the independence referendum."
The interviewer also suggested Ukip is a "political irrelevance" in Scotland due to its "alien political philosophy", and said the future was "gloomy" for the Euro-phobic party.
24 Hours of Hurt
Farage's troubles come after a triumphant few weeks in which Ukip picked up 25% of the vote in council elections in England, and came second in the Eastleigh by-election.
Last night the party's leader was chasing further success as he visited Edinburgh to take part in a political debate, and promote a Ukip candidate in an Aberdeenshire by-election.#
Shortly before his visit, Farage said: "We've proved we can get votes in Wales, England and Northern Ireland, We're still untested in Scotland.
"We've not had an opportunity to test Ukip policies with the Scottish people for a very long time."
However when he arrived at a press conference in Canon's Gait pub, Farage was heckled by a group who yelled "homophobe" and "scum" at him.
They then followed him out of the pub and onto the Royal Mile, where the famous Farage grin began to sag quickly.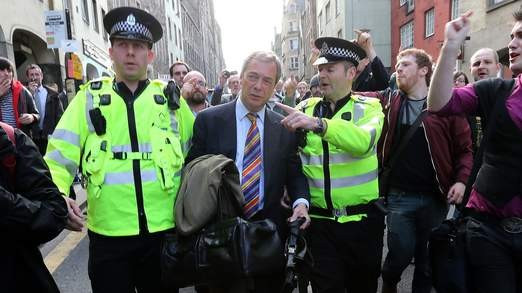 'Ukip are just bull***t'
Clambering into a taxi, Farage sought to vacate the area, but a young woman in a wheelchair blocked the vehicle and it was encircled by the mob.
"Ukip are just bull***t" explained the wheelchair-bound woman to the Guardian.
Farage was then thwarted a second time in his bid to escape by cab, and had to dash back inside the Canon's Gait pub while being jostled.
The mob continued with yells "Ukip scum, off our streets" and "Nigel, you're a bawbag."
Eventually police officers escorted Farage into a riot van, allowing him to speed away from the scene.
In the aftermath of the incident, Farage said he suspected protesters were driven by a virulent anti-English sentiment to the protests.
READ: