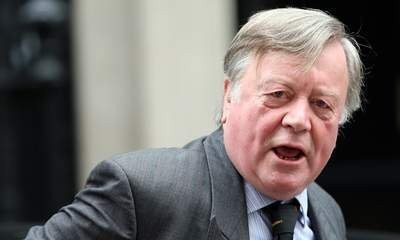 Nigel Farage's UK Independence Party has claimed it is the victim of a Tory "dirty tricks" campaign to smear its candidates' reputations ahead of next week's local elections, in which the party is expected to make big gains.
Ukip came under attack from senior politicians of all sides on Sunday, in a move its deputy leader, David Nuttall likened to "a politcal lynch mob".
Conservative Cabinet minister Ken Clarke appeared on Sky News to brand Ukip politicians "clowns", while the Lib Dems' Simon Hughes took to the BBC to say Ukip "had very few policies and can't agree what they are".
Labour also waded into the row amid fears it could also lose votes to Ukip in next Thursday's polls. "Some of their candidates are pretty unappealing," said shadow local government secretary Hilary Benn. "In public life, in politics, you are subjected to scrutiny," he added.
Ukip has admitted it is struggling to properly vet the backgrounds of around 1,700 prospective candidates as its support surges in the polls. A handful of its candidates have been exposed as former BNP members, while others were suspected of links to the far-right English Defence League and National Front.
Struggling to fill a policy vacuum, the party was even considering paying for "off-the-shelf" policies from right-wing thinktanks, according to the Observer.
Ukip has said it will investigate candidates over links to groups such as the BNP and alleged racist and homophobic comments, and insisted it did not condone "unpalatable views".
"They of course have not been able to vet their candidates. Fringe right parties do tend to collect a number of waifs and strays," said Clarke, a minister without portfolio.
"Some of them are saying quite different things now they are in politics to their actual views and what they used to say. I think people like that should be exposed.
"The trouble with Ukip really is it is just a protest party - it is against the political parties, it is against the political classes, it's against foreigners, it's against immigrants. It doesn't have any very positive policies - they don't know what they are for."
However, he acknowledged that the continuing economic gloom made Ukip appear an attractive proposition for many voters.
"It's very tempting to vote for a collection of clowns or indignant, angry people who promise that somehow they will allow you to take your revenge on the people who caused it," Clarke said. "You should actually vote for people who you think are going to be sensible county councillors."
Asked whether he agreed with David Cameron, who said in 2006 that Ukip was full of "fruitcakes and closet racists", Clarke replied: "I have met people who satisfy both those descriptions in Ukip."
But Ukip hit back, accusing the Tories of running a "morally reprehensible" smear campaign by trawling through the Twitter and facebook accounts of its prospective councillors.
A Ukip spokesman said Tory efforts to dredge through its candidates' social media activities amounted to a "political lynch mob".
Nuttall added: "A certain amount of our vote will be protest, but there are people out there now who are solid Ukip voters, who like what we say.
"This is a party which is going places, and we are going to change British politics forever if we are going to continue on this upwards trajectory."
In a separate development, Northumbria Police confirmed they are investigating an allegation of postal fraud by Ukip in the Cowpen area of Blyth, it emerged.