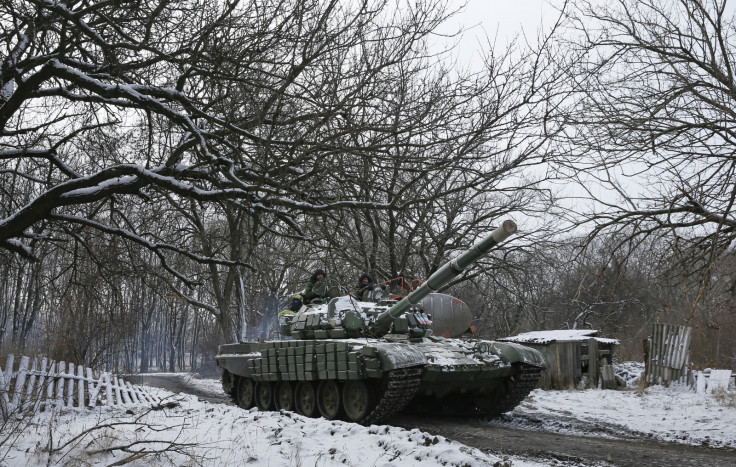 A ceasefire agreement to stop the ongoing violence in eastern Ukraine has reportedly been reached just hours before the Minsk summit in which the leaders of Russia, France, Germany and Ukraine are set to meet.
The Contact Group comprising representatives of Ukraine, pro-Russian rebels, Russia and the Organisation for Security and Cooperation in Europe (OCSE) has concurred on broader agreements to pull back heavy weaponry amid the intensified diplomatic push, it has been reported.
"The Minsk talks have squared a scheme of withdrawal of heavy weapons. The parties have also agree [sic] a ceasefire regime and control over its observance. The sides also discussed local elections and Donbass' state structure, its form of government," a source close to the summit told Russia's TASS news agency.
Denis Pushilin, who is representing the pro-Russian rebels in the Contact Group, however, denied a ceasefire deal has been reached in his comments to Russia's Rossiya24.
German Chancellor Angela Merkel, French President Francois Holland, Russian President Vladimir Putin and Ukrainian leader Petro Poroshenko are to meet in the Belarusian capital shortly to ease the ongoing fighting between armed pro-Russian separatists and Kiev forces.
Merkel and Hollande have expressed hopes for a breakthrough in the talks.
Delegates representing the four sides had begun discussions on the situation on the eve of the leaders' talks.
Obama warns Putin
US President Barack Obama has also exhorted Putin to extend his support in resolving the Ukrainian conflict in a telephone conversation between the two leaders.
"President Obama underscored the rising human toll of the fighting and underscored the importance of President Putin seizing the opportunity presented by the ongoing discussions between Russia, France, Germany, and Ukraine to reach a peaceful solution," the White House said.
Obama went on to add Russia will pay the price if Putin presses ahead with his "aggressive actions" in Ukraine.
Obama also spoke to Poroshenko on phone ahead of the Minsk discussions.
A similar statement from the Kremlin read: "Vladimir Putin provided a detailed assessment of the situation in the southeast of Ukraine, with an emphasis on Russia's recent proposals discussed, in particular, in the context of preparation for the [Minsk summit]. The presidents of Russia and the United States have emphasised the importance of a political – through dialogue – resolution of Ukraine's internal conflict, the speedy cessation of bloodshed, and the protection of the legitimate rights of all Ukrainian citizens without exception, including in the southeast."
Discussions on setting up a demilitarised zone in Donbass also took place, with Russia expected to be tasked with greater responsibility.