Rockets killed civilians and soldiers deep in Ukrainian government-held territory, crashing into Kramatorsk, some 50km (30 miles) north of the front. The missiles hit the main headquarters of the Ukrainian military campaign in the east, as well as nearby residential areas.
Local officials said at least seven civilians were killed, while 26 civilians and 10 soldiers were wounded.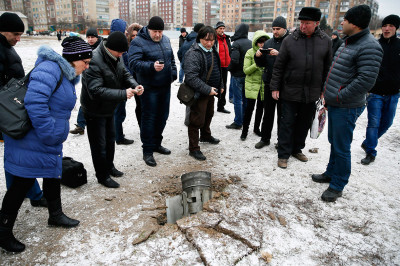 A kindergarten was damaged during the attack. A teacher named Valentyna said: "The kids started screaming, and the shells started to explode. We started to round up the kids in a group and tell them fairytales, 'Oh kids, it's just thunder in the middle of winter. Summer is coming soon. And it's just thunder.' But the kids already understand everything, you can't fool them, and they started screaming."
It wasn't immediately clear who was responsible for the attack, with Kiev and the rebels putting the blame on each other.
Ukrainian President Petro Poroshenko said: "Twenty-five minutes ago, the main headquarters of our anti-terrorist operation took a strike from a Tornado rocket. The headquarters took this strike, but a second strike was carried out on residential areas of Kramatorsk. There is information about wounded service personnel. There is information about a significant number of wounded among civilians."
The government-controlled Donetsk regional administration said the rockets had been fired from the rebel-controlled Horlivka area, which is about 50km away from Kramatorsk.
Pro-Russian separatists denied firing on the town, but their apparent ability to strike so far into Ukrainian-held territory will complicate peace talks that aim to re-establish a ceasefire the separatists repudiated with a new offensive since last month.
The renewed fighting has brought calls in the West for more pressure against Moscow. US President Barack Obama is weighing up whether to deliver weapons to Kiev.
He met Germany's Chancellor Angela Merkel on Monday (9 February) but announced no decision on weapons, despite several senior officials in his administration coming out last week in favour of sending some arms. European countries oppose sending arms to Kiev, arguing this would escalate the war while providing nowhere near enough fire power for the Ukrainians to win it.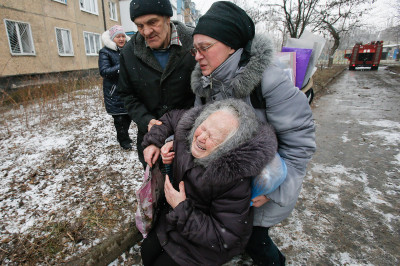 An apartment block in Donetsk was set ablaze after shells hit a residential area next to a chemical plant on Monday.
One of the local residents, an elderly woman, was unable to stand as she was crying after she saw her home burning. Another local resident said all her documents were lost in fire.
"Nothing is left. Everything was burnt. I do not know how to get our point across to them [Ukrainian side]. We are civilians. They say they were born from Ukrainian mother. But what Ukrainian mother they are talking about? They came out of hell. They were born from the devil."