Pro-Russia separatists in Donetsk have vowed to keep fighting Ukrainian government forces after they were driven out of the key stronghold of Slovyansk.
Three bridges over roads leading into Donetsk were blown up on Monday, blocking key access routes to the rebel-held eastern Ukrainian city. The bridges' destruction may be an attempt by the rebels to buy time and slow down any assault by Ukrainian forces on the city.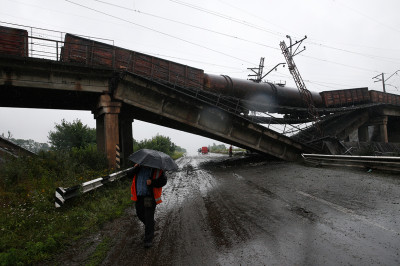 The insurgents control the regional administration building and checkpoints on the city outskirts, but it is unclear whether they will be able to put up major resistance in the face of a Ukrainian attack.
Ukrainian forces demonstrated their superior firepower in repelling a rebel attempt to take control of Donetsk's airport in late May, a battle that left dozens of rebel fighters dead.
At a rally in a central Donetsk square, the rebels were cheered on by thousands of supporters waving the flags of Russia and the self-proclaimed independent Donetsk People's Republic. Many urged Russian President Vladimir Putin to quickly come to their aid.
Putin has so far resisted demands at home and by the rebels to come to their aid, wary of having more Western sanctions slapped on Russia.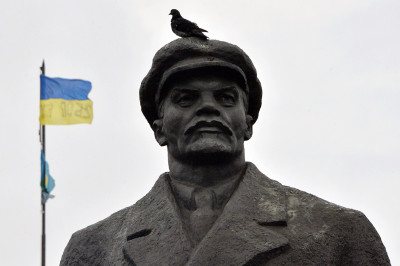 Ukrainian troops forced pro-Russian insurgents out of Slovyansk on Saturday, a significant success that suggested the government may finally be making gains in a months-long battle against a spreading separatist insurgency.
As rebels fled from Slovyansk, vowing to regroup elsewhere and fight on, President Petro Poroshenko hailed the recapture of the city as "the start of a turning point" in a battle that has claimed more than 400 lives since April.
Soldiers raised the Ukrainian flag over the city council building, while troops carried stockpiles of weapons out of the city's administrative and police buildings, which have been under rebel control since early April.
With a population of almost one million, Donetsk is larger than Slovyansk and has a greater concentration of rebel defenders. On top of that, Ukrainian forces may try to avoid using aircraft and artillery, their chief military advantages, in the city because of the damage and civilian casualties they can cause.
Nina Yakovleva, a 45-year-old accountant and resident of Donetsk, said she expected nothing good to come of the convergence of rebels in the city. "We are afraid that Donetsk will be left in ruins, like Slovyansk," she said. "The rebels have brought us war and fear."