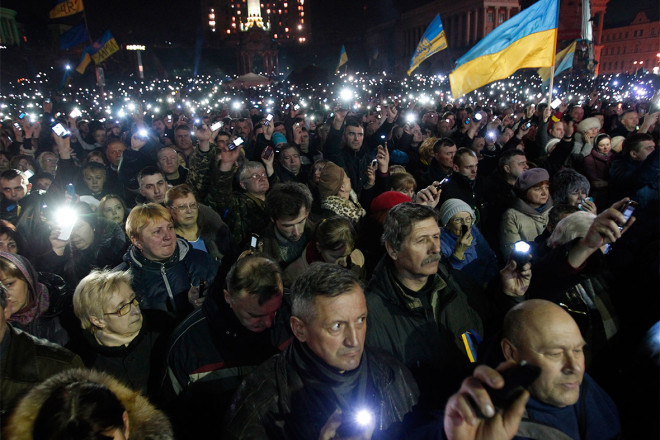 The Ukrainian currency, hryvnia, has plunged to record lows against the dollar as fractured and uncertain political situation, as well as the lack of Russian emergency aid, weighs heavily on the markets.
The hryvnia is now one of the worst-performing emerging market currencies of 2014 after it lost 20% of its value against the US dollar year-on-year, and fell as low as 10.60 per dollar on 26 February.
Meanwhile, Ukraine's debt insurance costs started to rise again, despite falling to three week lows on 25 February, after the country's 5-year credit default swaps posted a 76 basis points bump.
CDS are contracts that allow investors to reduce or eliminate the risk that a borrower will default on a loan or a bond. The lower the cost for a CDS, the less risky the asset it is insuring against, is deemed to be.
Elsewhere, Ukraine's bond took a hit after the 2017 dollar bond and long term sovereign bonds edged lower.
Russia's Deputy Finance Minister Sergei Storchak said that Ukraine may default on $3bn (£1.8bn, €2.2bn) in Eurobonds that Russia bought in December while talks on financial help for Ukraine have not materialised on an international level.
Storchak said that no multilateral talks were going on but said a solution to Ukraine's economic crisis was urgent. Talks were being conducted at a national level, he said.
In an earlier meeting with Lamberto Zannier, secretary general of the Organization for Security and Co-Operation in Europe (OSCE), Russian foreign minister Sergei Lavrov said that all forms of aid to Ukraine should be provided only at the demand of "legitimate authorities".
Russia halted aid to Ukraine as several Russian-speaking regions called for secession from Kiev and the interim government led by Oleksandr Turchinov because they said they were being victimised.
In a statement published on the foreign ministry's website, Lavrov had asked the OSCE to condemn "the growth of neo-nationalist and neo-fascist sentiment in the west of the country, calls by nationalists to ban the Russian language, to turn the Russian-speaking population into non-citizens, limits on the freedom of expression and the closure of unwanted political parties."