Top western diplomats have backed mass protests against the Ukrainian government, but amid the broad coalition leading the demonstrations is a party that represents much of what the EU and the US stand against.
Last week, US republican senator John McCain flew to Kiev to throw weight behind protesters and meet with the three leaders of the opposition coalition Vitali Klitschko, Arseniy Yatsenyuk and Oleg Tyagnybok.
To shake hands with the latter, who heads the ultra-nationalist Svoboda – Freedom – party, was source of criticism for McCain.
In 2004 Tyagnybok was kicked out of parliament for saying that Ukraine was ruled by "Jewish-Russian mafia".
Over the past few weeks, Tyagnybok has been leading his supporters in mass protests sparked by President Viktor Yanukovych's decision to spurn a potentially historic trade deal with the EU, in a move that has been widely interpreted as kowtowing to Russian pressure.
Hundreds of thousands of people have been urging Yanukovych to step down, accusing him of running an autocratic regime.
Svoboda members do not represent the majority of the protesters but have often led the action.
Wearing bicycle makeshift helmets and masks they have organised pickets and anti-government stunts like the occupation of Kiev's city hall.
Svoboda's pro-EU stance is counterintuitive, as most of Europe's ultra-nationalist parties see Brussels as their arch-enemy.
"Svoboda is far more anti-Russia than it is pro-EU." Olga Onuch, research fellow at Nuffield College University of Oxford told IBTimes UK. "Historically Ukrainian nationalism has framed itself as anti-Russian imperialism,"
Ukraine ultra-nationalism traces its roots to the WWII resistance against Soviet occupation, when some partisans struck a loose alliance with the Nazis.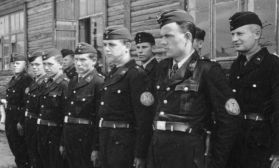 Anti-Semitism and protests
Tyagnybok took the reins of the party in February 2004, when it was still called Social-National Party of Ukraine and had a swastika-like logo.
The 45-year-old urological surgeon has overseen its transformation into one of Ukraine's major political forces.
He has marginalised neo-Nazis among party ranks, while keeping up the anti-Semitic rhetoric at the same time.
In 2005 he signed an open letter to then Ukrainain President Viktor Yushchenko urging him to ban all Jewish organizations, including the Anti-Defamation League, which he claimed carried out "criminal activities" of "organised Jewry", ultimately aimed at committing "genocide" against the Ukrainian people.
As support soared through the years, leading the party to win about 10% of the vote at 2012 parliamentary elections, slurs against Jews continued.
In 2012 lawmaker Igor Miroshnichenko said the Ukrainian-born Hollywood actress Mila Kunis was not a true Ukrainian and called her a "zhydovka", which translates as "dirty Jewess".
The same year the EU Parliament voiced concern about "rising nationalistic sentiment in Ukraine, expressed in support for the Svoboda Party."
"[The Parliament] recalls that racist, anti-Semitic and xenophobic views go against the EU's fundamental values and principles and therefore appeals to pro-democratic parties in the Verkhovna Rada [Ukraine's parliament] not to associate with, endorse or form coalitions with this party."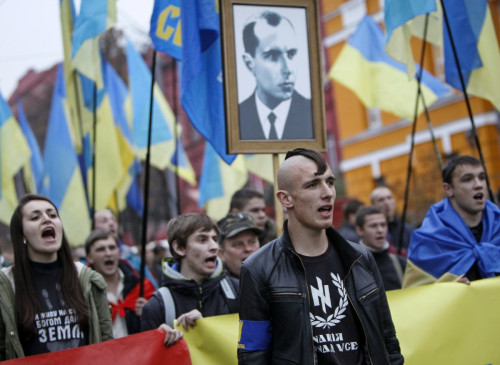 One year on, Svoboda is rallying in a joint coalition with Ukraine's other two major opposition parties for Ukraine to foster closer ties with the EU.
"We are fighting for Ukraine, not with each other," Klitschko, the heavyweight boxing champion who has emerged as the most prominent opposition figure during the protests at the head of his own political party, Udar (Punch) told a rally.
"The opposition really needs to be united in order to be able to challenge the regime," Onuch said.
Tyagnybok has long denied Svoboda is anti-Semitic and xenophobic, arguing it is "Simply and only a pro-Ukrainian party."
However Svoboda's presence in the coalition is still a source of awkwardness for European diplomats.
Unlike McCain, when German Foreign Minister Guido Westerwelle arrived in Kiev to hold talks with opposition leaders earlier this month, he carefully avoided meeting with Tyagnybok.
Also some fellow protesters have voiced their uneasiness at demonstrating side by side with Svoboda.
"I really don't want to walk next to the people walking with the Svoboda flags and I don't think it's the right thing to do and I don't support the leader," Alexandra Oleynikova, a young Jewish activist involved in the protests told the Jerusalem Post.
"But once you're at Maidan [Kiev's Independence Square] and you are there in the atmosphere it's kind of like the borders, they are less physical."
Onuch said that the other coalition parties, Udar and Fatherland, which is led by Yatsenyuk, a close ally of jailed former PM Yulia Tymoshenko, have done a great deal to temper Svoboda's extremist rhetoric and avoid it to be voiced during the protests.
"It's a coalition of inconvenience. These are very different parties and if they were to govern together it would produce a lot of difficulties for them," Onuch said