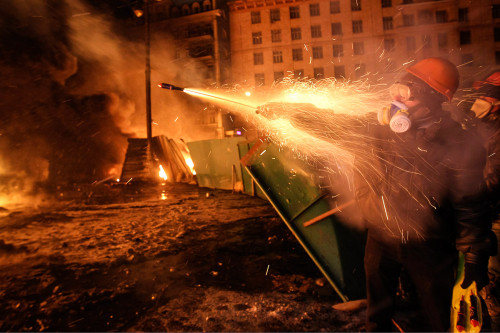 Ukraine's president Viktor Yanukovych has promised a government reshuffle and an amnesty for protesters in an effort to curtail civil unrest spreading further.
Yanukovych called for a special session of parliament to discuss the clashes that have rocked the country and left at least three people dead.
During a meeting with church leaders, Yanukovich said key decisions would be made at a special session of parliament scheduled to take place next Tuesday (28 January), according to Interfax news agency.
"We will take a decision at this session. The president will sign a decree and we will reshuffle the government in order to find the best possible professional government team," Yanukovich said.
"I will do all I can to stop this conflict, to stop violence."
Prime minister Mykola Azarov said he was ready to resign, together with his cabinet, if parliament demanded it.
He added that his government was ready to repeal or at least tone down new laws brought in to tackle violence.
Demonstrators in Kiev have continued their protests, erecting more barricades and storming the governor's offices in the city of Lviv.
A ceasefire had been agreed but seemed fragile and parliament had urged the president to declare a state of emergency - something he has resisted so far.
The protest was sparked following Yanukovich's rejection of a trade and investment deal with the European Union. Demonstrations increased after Yanukovich reached an alternative trade deal with his Russian counterpart Vladimir Putin.