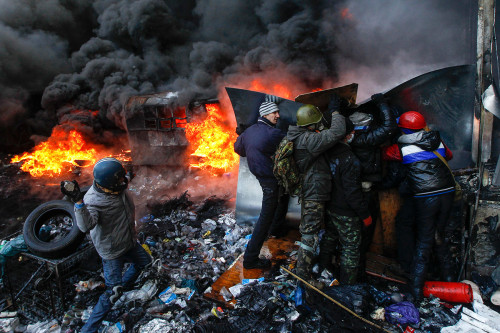 Ukraine's prime minister Mykola Azarov is ready to resign, together with his cabinet, if parliament demands it.
"The question of resignation is within the competence of parliament. If parliament votes this way, the government will resign. I have said before that this procedure is possible," Azarov told reporters at the World Economic Forum in Davos, Voice of Russia reported.
"If the political forces of parliament and the president think this necessary, then what grounds do I have to oppose such a course of events?" he said.
He added that his govermnent was ready to repeal or at least tone down new laws brought in to tackle violence.
President Viktor Yanukovych has called for a special session of parliament to discuss the clashes that have rocked the country and left at least three people dead.
Meanwhile, protesters stormed the governor's offices in Lviv, and there have been rallies in at least five more cities.
Crisis talks between the government and the opposition ended in deadlock.
Ukrainian opposition leaders issued an ultimatum to Yanukovych, saying that protesters would be "on the attack" in the capital of Kiev if the government refused to call snap elections.
The protest, which began peacefully, turned violent with police buses set on fire, Motolov cocktails thrown and police and demonstrators beaten up.
The uprising culminated in the killing of two demonstrators by police on Wednesday.
European Commission leader José Manuel Barroso spoke to Yanukovich by phone to express his concerns with the violence. Yanukovich assured him that he would not call a state of emergency and that there were no plans to involve the military.
"We are shocked to hear the latest news on Ukraine about the deaths of protesters and express our deepest condolence to their families," Barroso said. "We deplore in the strongest possible terms the use of force and violence and call on all sites to immediately refrain from it.
"I would like to explicitly underline the fundamental responsibility of Ukrainian authorities to take action to de-escalate this crisis."
Barroso warned: "If the situation is not stabilised, then the EU would assess possible consequences in its relationship with Ukraine."
The escalating violence has sparked fears of an all-out civil war wracking Ukraine.
The protest was sparked following Yanukovich's rejection of a trade and investment deal with the European Union. Demonstrations increased after Yanukovich reached an alternative trade deal with his Russian counterpart Vladimir Putin.
While Russian foreign minister Sergei Lavrov blamed outside influences for fuelling the violence, Ukrainian politician Arseniy Yatsenyuk argued that the shift in protests tactics has been caused by Yanukovych's refusal to listen to the protesters' demands.