Ukraine: Seven Killed and Hundreds Wounded as Anti-Yanukovych Protests Return to Kiev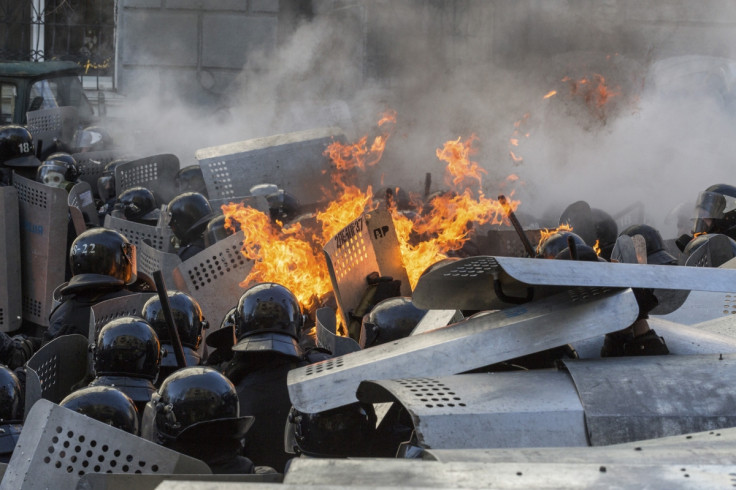 Seven protesters have been killed and 150 more were injured as fierce clashes erupted again on the streets of central Kiev, according to opposition sources.
The protest began as the opposition called for a return to the 2004 constitution and a transfer of a share of President Viktor Yanukovych's "dictatorial" powers back to parliament, releasing his grip of control on the economy and security forces.
Opposition Batkivshchyna MP Lesya Orobets said on her Facebook page that the bodies of three protesters were inside a building near parliament while medical workers confirmed the same death toll.
Hundreds of protesters managed to occupy one of Yanukovych's Party of the Regions defence buildings despite police firing rubber bullets and stun grenades.
Footage shows riot police being forced to retreat from central Kiev's Shovkovychna Street as protesters under a hail of missiles. Three trucks were also set ablaze.
Russia's foreign ministry claimed that the renewed unrest was a "direct result of connivance by Western politicians and European structures that have shut their eyes... on the aggressive actions of radical forces".
Opposition figurehead Vitaly Klitschko demanded that Yanukovych remove riot police from Kiev's streets to prevent any further "conflict in society".
"It will be the decision of a real man," said the former heavyweight boxer.
Meanwhile, EU foreign policy chief Catherine Ashton condemned the latest violence.
"I am deeply worried about the grave new escalation in Kiev and the reported victims. I
condemn all use of violence, including against public or party buildings," she said in a statement.
Unrest in Ukraine began in November when Yanukovych reneged on a free trade deal with the European Union before sealing an economic rapprochement with Russia.
Moscow has made no secret that it wants Ukraine to join the Russian-led Customs Union with Belarus and Kazakhstan instead of moving closer to the EU.
If the opposition demands were to be successfully implemented after the unrest, the changes would mean that parliament - rather than Yanukovych - would appoint the prime minister and the majority of cabinet members, as well as regional governors.
Changes could also lead to early presidential elections - one of the key demands of the opposition.
© Copyright IBTimes 2023. All rights reserved.