War-torn Ukraine's gross domestic product plunged 15.2% year-on-year in the fourth-quarter of 2014, official data showed on 17 February.
GDP fell by 3.8% from the third-quarter, according to data from the Ukrainian statistics service.
The data excluded the Crimean peninsula, which was annexed by Russia last March, and areas where military operations were under way, the statistics office said.
Ukraine's economy has been battered by almost a year of war and political turmoil, hitting industries hard and pushing the former Soviet republic towards bankruptcy.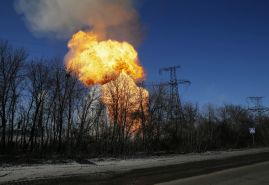 Fighting in areas in the eastern Ukrainian region continues despite a ceasefire taking effect over the weekend.
The town of Debaltseve, besieged by the anti-Kiev rebels, remains the flashpoint of the latest violence, which threatens to leave the painstakingly hammered out ceasefire deal in tatters.
Timothy Ash, head of emerging markets at Standard Bank, said that Ukraine will need more money to stay afloat.
Ash said in a note to clients: "Beyond the IMF, official creditors in general need to cut out the cheap talk of supporting Ukraine, and preventing its financial meltdown - accept that they failed already and to figure out how they actually rebuild from here.
"Arguably if the West is set on not arming Ukraine then it really needs to do more to financially support the country in its hour of need. Talk is cheap, and actions speak much louder than words."
Last week, Ukraine's Prime Minister Arseny Yatseniuk said his nation will borrow $1bn (£651m, €876m) to create a strategic reserve of natural gas and fuel oil to cover local needs in emergency situations.
Earlier in the month, the International Monetary Fund (IMF) agreed to provide a $17.5bn loan to Ukraine, to stabilise the country's economy, restore growth and improve living standards there.